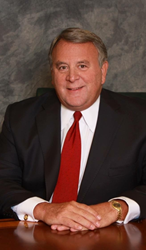 Rudy Trebels has spent more than four decades as an innovator in the U.S. real estate and finance industries.
NORTHFIELD, Ill. (PRWEB) October 26, 2018
Rudy Trebels, CEO of Wedgewood Investment Group, LLC, is a featured author in the new Fall 2018 issue of Seniors Housing Business magazine.
The article by Trebels in the magazine's latest issue, which is now shipping to subscribers, highlights recent "earth-friendly" trends in the planning, construction and operation of senior housing developments.
Rudy Trebels has spent more than four decades as an innovator in the U.S. real estate and finance industries. He has completed more than $1 billion in transactions serving more than 100 lenders and investors, while helping hundreds of companies across the nation achieve their growth and operational goals.
Wrote Trebels: "What many do not appreciate is that leadership in building senior living facilities that are aggressively green has a surprisingly long history."
Trebels cites Pennswood, a Quaker facility in Newton, Pennsylvania, which was founded almost 40 years ago in 1980. The Pennswood complex includes geothermal heating and cooling as well as a resident-run recycling program and community gardens.
According to Trebels, environmentalism and a desire for "green living" are not going away and are a permanent fixture of the market.
Trebels also noted that contemporary green construction methods, so-called LEED standards, are providing long-term cost savings for both the owners and the residents of new senior housing construction.
Concludes Trebels in the article: "Once a new community is completed, baby boomers and those that follow them will expect the same healthy living, marketing and food choices that the communities they leave behind have already established. This includes safe living, accessible green spaces, farmer's markets, farm-to-table food deliveries, and set-aside garden spaces inside residential compounds where residents can grow their own veggies and flowers. These are not new values, but they are values to keep and cherish."
About Wedgewood Investment Group, LLC
Wedgewood Investment Group, LLC is an investment banking entity, headed by founder and CEO Rudy Trebels and headquartered in Northfield, Illinois. Wedgewood, founded in 2009, focuses on the funding and development of senior-living communities. Visit our website at http://www.WedgewoodLLC.com for more information.
CONTACT
Garnet Sherman
847-784-0055
info@WedgewoodLLC.com
http://www.WedgewoodLLC.com