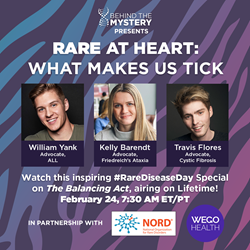 Partnering with The Balancing Act is a powerful way to take our mission to a massive audience
BOSTON (PRWEB) February 11, 2021
One in 20 people will live with a rare disease in their lifetime. Many go undiagnosed and, for most rare diseases, there are no known cures. To support rare disease patients and to spread rare disease awareness, WEGO Health has partnered with the national, award-winning morning show, The Balancing Act, to produce "Rare at Heart, What Makes Us Tick." The special program will air on Lifetime TV on February 24th to commemorate Rare Disease Day 2021.
"At the core of WEGO Health's mission is empowering patients to share their stories - to show other patients they are not alone, and to elevate the healthcare industry's view of patients as experts in their own disease experience. Partnering with The Balancing Act is a powerful way to take our mission to a massive audience," said Jack Barrette, WEGO Health Founder and CEO.
WEGO Health connected The Balancing Act with three patient influencers who are members of our Patient Leader Network. Featured in the special are William Yank, a 3-time Leukemia survivor, TedX speaker, and WEGO Health Awards finalist with his own podcast, clothing line, over 90,000 followers on TikTok; Kelly Barendt, a Friedreich's Ataxia patient influencer, blogger, and YouTuber with over 300,000 TikTok followers; and Travis Flores, a cystic fibrosis warrior, three-time lung transplant survivor, activist, philanthropist, motivational speaker, actor, and children's book author.
The special is part of The Balancing Act's recurring health segment, Behind the Mystery: Rare and Genetic Series. Behind The Mystery has brought rare disease awareness to the mainstream for the past nine years, giving patients, their families, advocates, and those in the industry a national platform to share their stories.
"Rare at Heart, What Makes Us Tick," will air at 7:30 AM ET/PT on February 24th on Lifetime TV and will then stream online at TheBalancingAct.com/Rare.
About WEGO Health
WEGO Health is a mission-driven company dedicated to transforming healthcare through the experience, skills, and insights of patient influencers. With a network of more than 100,000 patient influencers across virtually every health condition, WEGO Health helps the world's leading life sciences companies conceptualize, create, and execute social media campaigns that drive high-value actions. We combine the science of influencer marketing with the power of patient-driven content to deliver engagement across patient communities at scale.
About The Balancing Act
The Balancing Act® is a morning show created and produced by BrandStar that offers sensible solutions and essential information in a fun, entertaining format; providing resources to help people do life better. The Balancing Act features everything from delicious recipes, style makeovers, and dream getaways to parenting tips and the latest news in health and wealth. Tune in to The Balancing Act weekdays at 7:30 a.m. (ET/PT) on Lifetime®, and find all previously aired episodes onTheBalancingAct.com.