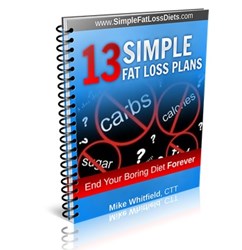 Why not pick the exact weight loss diet that fits your own unique lifestyle.
Atlanta, GA (PRWEB) October 23, 2013
After successfully losing 105 pounds, Mike Whitfield has been helping thousands of other people around the world to achieve their own weight loss goals and dreams.
Whitfield found that the most effective weapons to burn fat fast and lose weight was through intermittent fasting and metabolic resistance training. Whitfield features a very powerful version of intermittent fasting that he and his clients currently use to burn fat consistently and burn it fast in his new guide Simple Fat Loss Diets.
This isn't the first time Whitfield has offered a free book to help people in the community. Last year he released Bodyweight Torch, a 30 day bodyweight exercise guide that can be done from home. Over 4,000 people have downloaded Bodyweight Torch over the last year and the people that have used the home workout program have reported fantastic results.
One of the many reasons Mike has experienced such massive success with not only himself but additionally with his clientele is simply because he recognizes that there isn't any "one size fits all" diet plan or workout program. To get the best fat burning results the programs need to be tweaked at times to adapt to a person's lifestyle. In his new eBook Simple Fat Loss Diets Mike has shared all of the strategies which have made it possible for six of his clients to win over $5,000 in cash prizes competing in body transformation contests.
Simple Fat Loss Diets is available as a free digital download here http://simplefatlossdiets.com/.