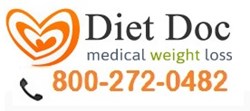 During their initial consultation, patients will receive a one-year prescription for Diet Doc's best diet supplements, treatments and weight loss pills.
Atlanta, GA (PRWEB) December 05, 2013
Following a gluten free diet to lose weight, and to overcome the negative side effects of consuming high amounts of potentially harmful gluten food items, may sound simple, but many dieters find sticking with their gluten free diet challenging. Diet Doc's weight management professionals recognize the benefits of reducing processed carbohydrates, both to lose weight and to eliminate harmful health consequences caused by gluten, and incorporate appetite suppressing weight loss pills into their programs to help dieters maintain their intentions to lose weight. Diet Doc's combination of health education and their exclusive, prescription weight loss pills have helped thousands of dieters across the United States successfully lose weight and begin leading healthier, more active lives.
The gluten free diet trend has made new headlines recently because of the benefits that come along with eliminating gluten and processed carbohydrates from dieters' daily meals. But, dieters have found that giving up their favorite breads, pastas and chips may be more of a struggle than they initially thought. Diet Doc considered this issue when creating their diet plans and now produce prescription weight loss pills that increase the speed that patients are able to lose weight while also acting as a powerful appetite suppressant.
Each new patient will initially consult with a Diet Doc physician to determine whether the patient is a good candidate for prescription hormone weight loss pills. All Diet Doc physicians have received specialized training in the many causes of weight gain and the best methods for helping their clients lose weight fast, such as the gluten free diet. Together, the patient and physician will begin designing a diet plan around the patient's age, gender, health history and lifestyle preferences. And, based on the answers provided in the client's confidential, online health questionnaire, the physician will also determine the underlying causes of weight gain, like an internal imbalance or improperly functioning organs, and recommend and prescribe weight loss pills to permanently address those issues.
During their initial consultation, patients will receive a one-year prescription for Diet Doc's best diet supplements, treatments and weight loss pills. And, because these supplements work best with a healthy, low calorie meal plan, like a gluten free diet, patients will also work closely with a certified nutritionist who will help them create meals that taste delicious but that also encourage their body to burn excess fat to lose weight. Dieters will learn to incorporate lean meats, vegetables and other healthy food items that are appropriate for a gluten free diet into their daily routine and will also receive a copy of Diet Doc's exclusive cookbook with over fifty pages of low calorie meal suggestions and recipes.
This unique protocol combining nutrition education with fat burning and appetite suppressing weight loss pills not only allows patients to comfortably lose weight, it also provides them with the skills necessary to maintain their weight in the future. The Diet Doc team is committed to helping their clients reach their desired weight and is also dedicated to improving their weight-related health overall.
Want Diet Doc Special Offers? Sign up here: Click to Join
Diet Doc Contact Information:
San Diego, CA
(800) 272-0482
Weight-loss(at)Dietdoc(dot)info
http://doctorsupervisedweightloss.com/testimonials.php
Twitter: DietDoc10
Facebook: DietDocNaturalHealth