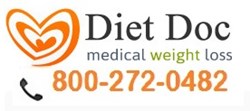 personalized for each patient's particular metabolism, age, gender, activity level and medical conditions, turns the body into a fat burning machine and melts pounds and inches safely and rapidly
Atlanta, GA (PRWEB) December 06, 2013
Diet Doc has become the nation's leader in medically supervised weight loss by creating diet plans that encompass all aspects of losing weight safely, rapidly and effectively. Consistently searching for innovative approaches to help everyone achieve weight loss success and improved health, the company recently incorporated a powerful new weight loss and fat burning catalyst called Lipo-B directly into their program which is designed to help patients boost their metabolism, lose unhealthy excess weight and look and feel better than ever before.
Lipo-B injections, when used in conjunction with the medically supervised administration of Diet Doc's 100% pure prescription hormone, and diet plans that are uniquely designed and personalized for each patient's particular metabolism, age, gender, activity level and medical conditions, turns the body into a fat burning machine and melts pounds and inches safely and rapidly.
Diet Doc's Lipo-B injectable solution contains Vitamin B12, which helps the body form new and healthy cells while also providing an additional energy boost, Choline for healthy liver function, Methoione, which works in collaboration with all of the ingredients to prevent excess fat buildup while also boosting energy, and Insoitol to aid in the rapid metabolization of fats, helping to reduce blood cholesterol levels and prevent the development of hardening of the arteries.
Because the body has difficulty absorbing the oral administration of many of these vitamins and minerals, Diet Doc has specially formulated their new Lipo-B injectable solution, ensuring that patients benefit from all of these fat burning and essential nutrients by delivering the full amount directly to the body. Diet Doc's goal is to continue to provide all Americans the opportunity to safely and rapidly lose unhealthy excess fat. Each patient's life changing journey is supervised by a staff of board certified and specially trained doctors, nurses, nutritionists and coaches with weekly checkup calls to monitor each patient's comfort level and weight loss progress. This level of personalized service enables the doctors to rapidly identify and resolve any weight loss plateaus or other barriers that may be hindering fast weight loss.
To further ensure each patient's safe, rapid and healthy journey toward a slimmer and more active body, all Diet Doc products are manufactured in their own fully licensed, FDA approved and United States based pharmacies and are available to qualified patients by prescription only.
To take advantage of the nation's leading fast weight loss program and the brand new Lipo-B injectable solution for healthy and accelerated weight loss, call Diet Doc today to schedule a confidential and complimentary consultation.
Want Diet Doc Special Offers? Sign up here: Click to Join.
Diet Doc Contact Information:
San Diego, CA
(800) 272-0482
Weight-loss(at)Dietdoc(dot)info
http://doctorsupervisedweightloss.com/testimonials.php
Twitter: DietDoc10
Facebook: DietDocNaturalHealth