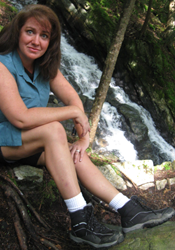 Health Magazine's pick for one of four Great Weight Loss Spas in America, New Life is offering $275 off their 11-night Weight Loss Retreat.
Mendon/Killington, VT (PRWEB) April 15, 2016
Wellness travel and weight loss spa vacations are on the rise. New Life Hiking Spa has been at the forefront of the industry and ahead of its time since its founding in 1978. As a result, New Life Hiking Spa has become known as one of the most affordable, all-inclusive spas of this type in the Americas.
Since its beginning days in Vermont during the summer of 1978, where New Life had a handful of guests each week, it has grown over the past 39 summers to be open mid-May through the beginning of October and have about 700 guests a year from all over the world.
For reservations booked by April 30, 2016 a $275 discount will be available for solo travelers with a private room or $330 off per person for couples off the 11 night retreat. All-inclusive prices start at $199 per person/per night. The special is for Weight Loss Retreats with arrival dates of May 12 - June 11 or July 15 - September 1. Prices include a room, three healthy meals per day, fresh fruit and vegetables as snacks, one guided hike every day (three levels offered per day to accommodate everyone's fitness needs), all fitness and yoga classes, one massage for every three night stay and evening lectures and cooking demos.
New Life Hiking Spa takes approximately 40 guests at a time and most come for extended stays to get healthy and concentrate on their wellness and weight loss. Shorter programs are offered, but because the spa-goers come from great distances, many opt to stay for the 11 night weight loss retreat.
New Life Hiking Spa has won many awards and accolades over the past 4 decades. New Life was ranked as the #1 spa on Spas of America' s top 100 list for 2014 & 2015 and was a SpaFinder Wellness Award Winner for 2015. The Active Times, Huffington Post and Rand McNally all listed New Life as one of the Top Ten Health and Wellness Vacations for 2015. New Life Hiking Spa was recently recognized by Travel + Leisure.com as one of "Seven Affordable Spas for a Rejuvenating Getaway" and has been acknowledged by Health Magazine as one of "America's four great weight loss spas".
New Life Hiking Spa is open each year in Mendon/Killington, Vermont and offers a variety of vacation options including a 2-4 day mini-getaway, a 5-10 day Jump Start Program and an 11-day or longer Weight Loss Retreat.
More information can be found on their websites at http://www.newlifehikingspa.com or http://www.WeightLossSpa.com. The dates for the upcoming 2016 season are May 12 – October 3 and reservations are now being taken.