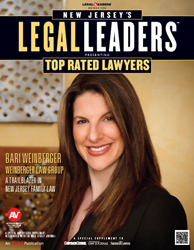 A trailblazer in New Jersey family law.
Parsippany, New Jersey (PRWEB) September 05, 2013
Weinberger Law Group, the New Jersey based family law practice founded by Bari Zell Weinberger, is featured in this year's cover story of ALM's publication of New Jersey Legal Leaders - Top Rated Lawyers. Each year, attorneys and law firms from around the state participate in this showcase of New Jersey legal representation. The publication is distributed throughout the months of August and September as a supplement to such prestigious publications as the Wall Street Journal, Corporate Counsel, The National Law Journal, The American Lawyer, and Inside Jersey magazine.
Bari Weinberger and Weinberger Law Group were a natural fit for this year's top rated lawyers issue. Weinberger Law Group is now New Jersey's largest divorce and family law firm. In addition to welcoming several new attorneys to its Parsippany headquarters in Morris County, the firm has also opened, and then expanded, a second location in Freehold, NJ to better serve divorce and family law clients in Monmouth County and the surrounding region. During all this growth and change, what has remained unchanged is Weinberger Law Group's reputation for individualized attention and individualized care of its clients' needs. The New Jersey Legal Leaders article explores how this team of family law attorneys is able to make it all work.
Bari Weinberger recently organized and moderated a New Jersey domestic violence forum to start a conversation with law enforcement officers and mental health workers about how to increase legal protection and services to domestic violence victims in the state. Bari has also appeared on TV, in print, and other media outlets, to discuss new and cutting edge issues in the world of divorce and family, including appearances on CBS 2 NY and ABC Eyewitness News. She also co-authored a new guide to Military Family Law and continues to write for the Huffington Post.
New Jersey Legal Leaders – Top Rated Lawyers will be included with the following publications. Please note publication dates:

Inside Jersey - In stores and newsstands on or before 8/27
The American Lawyer - publication mail date: 8/27
National Law Journal - publication mail date: 9/2
Wall Street Journal - included with the paper on 9/4
Corporate Counsel - publication mail date: 9/13
New Jersey Legal Leaders – Top Rated Lawyers can also be found online: