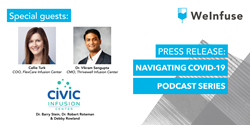 The response to COVID-19 is showing how important ambulatory infusion centers are.
DALLAS, and AUSTIN, Texas (PRWEB) May 18, 2020
Infusion software solution company WeInfuse is helping infusion center operators navigate the COVID-19 epidemic through a series of podcast episodes.
"We want to help our clients and others in the infusion industry navigate the current health crisis anyway we can," said Reece Norris, COO of WeInfuse. "In addition to guidelines published by NICA (National Infusion Center Association) and the CDC, some of the best resources right now are other infusion center operators on the ground."
Dr. Vikram Sengupta, Chief Medical Officer of Thrivewell Infusion in New York City, is one of the guests the WeInfuse podcast has spoken with.
"The response to COVID-19 is showing how important ambulatory infusion centers are," said Dr. Sengupta. "We're providing a high standard of care in a safe setting where we can better contain and prevent transmission."
In addition to upping standard cleaning procedures, Dr. Sengupta and his staff are also pre-screening patients via phone and before entering the infusion center.
"We're calling every patient before their appointment," said Dr. Sengupta. "We're also checking patient vital signs at the door. It's exhaustive, but we're being thorough."
As many infusion patients are immunocompromised or considered "at-risk", thorough pre-screening and emergency preparedness procedures are allowing ambulatory infusion centers to continue safely infusing.
"There are patients who receive infusion therapy who are particularly vulnerable to these types of infections and viruses," said Dr. Robert Roteman of CIVIC Infusion Center in Wilton, CT. "We're working to ensure patients who need infusion therapy are still able to receive it."
Infusion centers are also implementing other strategies to promote social distancing, helping keep patients and staff safe.
"We're trying to limit visitors on a case-to-case basis," said Callie Turk, COO of FlexCare Infusion in Oklahoma City, OK. "Many of our patients bring a caretaker or spouse with them to appointments. Right now, we're trying to limit it to just patients, staff and delivery."
FlexCare is also maintaining the CDC recommended 6-foot distance between people by utilizing private rooms and limiting the number of patients in any semi-private space.
Their efforts to promote a safe environment are not going unnoticed.
"Everyone feels better when they know why we're doing what we're doing," said Turk. "Communication is key right now."
WeInfuse's COVID-19 podcast series is available to listen to for free on their website and iTunes.