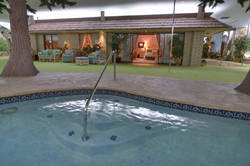 Where Real Estate Is Never Boring
POMPANO BEACH, Fla. (PRWEB) February 26, 2019
"Las Vegas Underground Bomb Shelter House"
A home in Las Vegas is a bit different than its neighbors as it is located 26-feet underground. Although it is underground, it includes five bedrooms, lawns, pool, terraces, views and a waterfall. It is now for sale priced at $18 million.
As the U.S. population lived through the terror of the Cold War and the Cuban Missile Crisis in the 1960s, thousands of Americans began building bomb shelters with the hope that their families might survive a hydrogen bomb. The idea of a nuclear war was a boom for the construction industry as Americans began digging underground planning for the day the Russians might drop the "big one." But one man outdid all the rest. He was Avon Cosmetics executive Girard Henderson.
Henderson wanted more than just a below-ground functional shelter with its drab concrete and food storage. After much planning by engineers and architects, he designed a home to be comfortable with all the luxuries he had above ground. The site measures nearly 15,000 square feet, and the house sits 26 feet below the surface as a five-bedroom, six-bath home measuring 2,316 square feet. Grounds include a swimming pool, outdoor kitchen, waterfall, trees and 500 feet of floor-to-ceiling murals of city and mountain views with lighting that simulates day, dusk and dawn. It has a chef's kitchen, large combined living and dining rooms, game room, sauna, large bar and almost endless venues for entertaining both inside and out. In addition to the privacy of underground, it is located under a caretaker's house on a gated 1.05 acres of land.
Now for sale, the Las Vegas underground home is outfitted with every conceivable luxury making it the most elegant bomb shelter in the country. Priced at $18 million, the listing agent is Stephan M-LaForge of Berkshire Hathaway, St. Rose Branch, Henderson, Nevada.
Visit TopTenRealEstateDeals.com for more historic, spectacular and celebrity homes and real estate news.