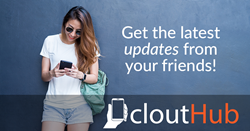 "I created CloutHub to bring diverse people together and empower them in a positive way to solve problems" Jeff Brain, Founder
IRVINE, Calif. (PRWEB) March 20, 2019
What are the top core benefits users want from the future of Social Media? This is the question Orange County based CloutHub, Inc. asked when they studied the issues associated with the existing social media. As a result they created a next-generation platform that overcomes all the problems associated with today's major platforms. CloutHub, is now available for download in the Apple App Store.
"I have been a civic leader throughout my career including as a former commissioner for the City of Los Angeles. When I tried to use Twitter and Facebook to help in my efforts, I found a disregard for speech, privacy and the discussions were unproductive, unhealthy and toxic. I felt, there needs to be a platform where people can share their ideas and views in a positive & healthy manner and where their freedoms are not violated. This is why I created CloutHub". Said Jeff Brain, Founder & CEO.
Everything users want in a single App
Social Media today is fragmented. CloutHub integrates the best of the existing platforms and what users want all into a single app. CloutHub users can socialize, receive their news, share updates with friends and family, express themselves, make new connections and more. Efficient & Convenient, users will no longer need to maintain multiple platforms.
Restoring Integrity to Social Media
Today's social media platforms started out with the best of intentions but have become Orwellian and intrusive - they track user movements and behavior, they data-mine user information and sell it to the highest bidder, they manipulate what users see, and they are biased and censor or de-platform users based on their political beliefs. CloutHub is not biased. It leans neither to the right or left. It is a site for all positive voices to count and make a difference on a level playing field. CloutHub never manipulates what users see, does not track user behavior or movements, and CloutHub will never sell user information. CloutHub is social media people will trust.
Using Social Media to Empower People
In addition to allowing users to socialize, CloutHub uses the power of social media for good - we bring people together and give them tools and resources that return POWER to the PEOPLE to influence the key issues that affect their lives and communities, to solve problems, to hold their leaders accountable, promote and defend their freedoms and create a better world. CloutHub will forever change the way people interact on the important political, social and community issues.
Social Media Done Right
Finally, CloutHub provides users with a positive experience. Users keep control of their own voice and can set a time after which their posts will automatically be deleted. Posts were never meant to be a permanent record. CloutHub uses advanced artificial intelligence to proactively detect inappropriate messages and images before they are posted to keep user interaction positive and safe. CloutHub offers transparent rules for its users. Diverse political speech is welcome. Cyber bullying, illegal activity and hate speech are not permitted. The platform is free to use, or users can subscribe to premium features. CloutHub is not dependent on ads like Facebook or Twitter, so user conversations are not bombarded by ads. All this and a specially designed user interface result in healthy civil discourse that positively impacts the well-being of individuals and society.
CloutHub is the people's answer for those dissatisfied with today's social media. CloutHub gives users all the benefits they seek without the intrusive Big Brother stalking. Civil Discourse, Freedom of speech and privacy and fun on social media are back.
Note: The Android Version of CloutHub will be released on Tuesday, March 26, 2019.