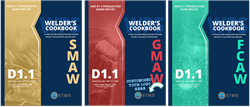 Having a full set of Prequals on-hand provides a cost-effective Quality Welding Program element that helps us be more competitive for the kind of jobs we seek to grow.
SACRAMENTO, Calif. (PRWEB) December 17, 2020
ETMS LLC, a global leader in Nondestructive Testing (NDT), QA/QC consulting and inspection training, today announced the launch of its turnkey Prequalified Welding Procedure Specification (WPS) package offering based on the American Welding Society's (AWS) D1.1 2020 Structure Steel Construction Code Book. The company also published this week its inaugural "Ask Generous Dave" monthly advice column, which aims to share with fabricators and inspectors alike decades of welding industry knowledge and insight from ETMS's internationally-revered founder, "Generous" Dave Diaz.
Prequalified WPS Package
Dubbed the "Welder's Cookbook," ETMS's three-volume Prequalified WPS package features all of the applicable AWS code requirements and production standards for more than 50 joint configurations utilizing the following welding processes: Shielded Metal Arc Welding (SMAW), Gas Metal Arc Welding (GMAW) and Flux-cored Arc Welding (FCAW). Fabricators seeking to increase efficiency and project yield can purchase volumes of the "Welder's Cookbook" by individual process or as a full package of all three processes. For fabricators seeking a Prequalified WPS for Submerged Arc Welding (SAW) process, ETMS offers a customized fourth volume, which requires additional information from the fabricator prior to development.
"As a small fab shop, we have found ETMS's Prequal WPS's to be indispensable in getting us from contract to production," said Jason Chernowetz, owner of NTK Fabrication Inc. "Having a full set of Prequals on-hand provides a cost-effective Quality Welding Program element that helps us be more competitive for the kind of jobs we seek to grow."
"For years, the industry has referred to WPS's as being 'recipes for welders,'" said Diaz. "ETMS's 'Welder's Cookbook' meets the fabricator's need for a full set of AWS-qualified recipes to cover all possible configurations, saving them significant time and money over developing the processes themselves."
ETMS's prequalified WPS "Welders Cookbook" packages for AWS D1.1 2020 Structural Steel Construction can be ordered at ETMSLLC.com/shop.
Diaz Knows Welding
Corresponding with the launch of ETMS's Prequalified WPS package offering, the firm also began publishing a monthly column to answer some of the welding industry's most persistent questions. ETMS's Q&A-themed "Ask Generous Dave" column further establishes the company's commitment to imparting invaluable lessons learned during its founder's 45-year career as an NDT Level III, quality assurance engineer and Certified Welding Inspector.
"From my days teaching AWS workshops to my frequent international trainings, I kept hearing so many of the same questions from fabricators and inspectors," said Diaz. "We figured ETMS should develop a repository where answers to pressing questions could be found quickly and easily."
"Generous" Dave Diaz's experience spans a wide array of industries, including aerospace, cogeneration, geothermal, oil and gas, nuclear as well as building, bridge and related construction. As a Quality Lead Auditor, NDT III, Inspector, Instructor and Examiner, Diaz has provided technical training instruction and inspection throughout the United States as well as internationally in Saudi Arabia, United Arab Emirates, Japan, China, Malaysia, India, Singapore, Taiwan, Mexico, Guatemala, North Vietnam, Canada and the Caribbean. At present, he serves as the AWS Chair of the CRI (Certified Radiographic Interpreter) program and holds certifications for SCWI, CWSR, CWE, CRI, CWB, API 570, Lead Auditor ANSI NQA-1, AISC auditor and AWS Assessor (Accredited Test Facility and Fabricator). Diaz also currently holds ASNT / ACCP III 30348 MT, NAS 410 & SNT-TC-1A in RT, UT, and PT methods. He continues to maintain welding certifications in pipe and plate for the SMAW, GTAW, GMAW and FCAW processes.
ETMS's "Ask Generous Dave" column can be read at http://www.ETMSLLC.com.
About ETMS
ETMS is a global leader in the Nondestructive Testing, welding inspection and quality program industries providing services such as CWI inspection and training, NDT inspection and training in ultrasonic, visual, magnetic particle and penetration testing. As a weld engineering consulting and weld engineering testing firm, we provide best-in-class Welding Program Development, Quality Program Development, Materials Science consulting, Failure Analysis and Safety Training services to our clients with the goal of improving their production efficiency with a greater understanding of process. Since 1991, our mission has been to improve Welding Inspection and Quality by delivering the highest standard of Inspection, Training and Consulting Service available. For more information, visit http://www.ETMSLLC.com.