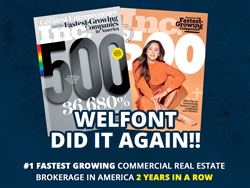 Welfont is the only business in America to make the Top 50 in the Inc. 5000 over the last 2 years, and also make the Top 50 in the Entrepreneur 360™ List.
TAMPA, Fla. (PRWEB) August 20, 2019
Welfont does it again!
Welfont is the #1 Fastest Growing Commercial Real Estate Brokerage in America for the 2nd Consecutive Year.
Inc. magazine today revealed that The Welfont Companies, based out of Tampa, Florida, is No. 31 overall on its annual Inc. 5000 List, the most prestigious ranking of the nation's fastest-growing private companies.
The Inc. 500 started in 1982 and was expanded into the Inc. 5000 in 2007. With approximately 30 million businesses in America, the Inc. 5000 list approximately represents the top .01% fastest growing businesses in the U.S.
By being ranked in the Top 50 of the Inc. 5000, Welfont has made the top 1% of the top .01% two years in a row!
After breaking records in 2018 by being the #1 Fastest Growing Commercial Real Estate Brokerage in the History of the Inc. 5000, Welfont grew revenue from $14 million in 2018 to over $20 million in 2019, holding to the title of the #1 Fastest Growing Commercial Real Estate Brokerage 2 years in a row.
With an impressive 3-year growth rate of 6,871%, Welfont joined SwanLeap, 2018 Inc. 5000 champion, and Homesnap as the only companies that placed in the Top 50 of the Inc. 5000 in each of the last 2 years. However, in this year's ranking Welfont placed higher than Homesnap once again, and has surpassed SwanLeap's growth rate, arguably making Welfont the fastest growing company in the country when accounting for both 2018 and 2019 Inc. 5000 rankings.
Recently, Welfont was also named by Entrepreneur magazine as the #20 Best Entrepreneurial Company in the country, and the #1 Best Entrepreneurial Real Estate Brokerage in its annual Entrepreneur 360™ List.
The Entrepreneur 360™ List is more comprehensive in its rankings as it analyzes 50+ data points measuring impact, innovation, growth, leadership, and business value. Only Welfont and one other company, Scientist.com, made both the Top 50 in both the Inc. 5000 and Entrepreneur 360™ Lists in 2018.
Here are few comments from members of Welfont on this latest recognition:
Founder Joe Johnson, PhD, stated, "It's a great joy and also very humbling to see Welfont, what was only a concept a few years ago, get this much traction this quickly. The leadership team, the agents, and the back-office team members are just absolutely incredible!"
CEO Shawn Marcell on receiving the honor, stated, "Today marks a special day for the Welfont family. Two years of continually pushing the boundaries, hard work, dedication and building relationships has paid off in a big way with us being one of only three companies to crack the Top 50 two years in a row. I couldn't be more proud of our team for believing in our vision."
2019 Tampa Bay Business Journal Business Woman of the Year Honoree, Amy Stevenson who is Welfont's Broker of Record and Executive Vice President of Compliance, said: "We are truly honored to receive such incredible recognition for the 2nd year in a row. Our amazing team of talented professionals continue to grow, innovate and exceed expectations every day."
COO Mike Mehaffey added, "We are all very humbled by the Inc. 5000 recognition and I couldn't be prouder of our entire Welfont family. Our business is not an easy one, it is only been through their hard work, dedication and innovation that we are where we are today."
Complete results of the 2019 Inc. 5000, including company profiles and an interactive database, can be found at https://www.inc.com/inc5000/2019/top-private-companies-2019-inc5000.html?cid=hmhero
About Welfont
Welfont is a national commercial and residential real estate company specializing in providing real estate investors and the nonprofit sector with a wide range of services, including brokerage representation, advisory, marketing, underwriting, due diligence, financial services, asset management, and dispositions. Welfont manages each investment from deal sourcing to underwriting to acquisition and disposition while helping our clients maximize their return-on-investment.