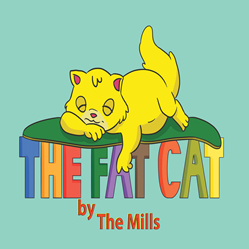 TALLAHASSEE, Fla. (PRWEB) January 14, 2019
New children's book, "The Fat Cat," by Ralph and Dr. Belen Mills is a delightful rhyming story with fun activities emphasizing "at" words such as "mat", "sat", or "pat." Dr. Mills has extensive background in early childhood education with three additional published books and several accolades including Who's Who in American Education.
"The Fat Cat" also includes activities and educational objectives designed to enhance critical thinking and inculcate timeless and high moral values for successful living such as personal discipline and responsibility, healthy habits and self-esteem.
"This book will provide a great opportunity for children, parents, mentors and teachers to enjoy their time together," the author said. "Nothing can ever replace the intimate person to person connection we share in those fleeting moments and precious time we have with our young children."
Children and adults alike will enjoy "The Fat Cat," and the fun opportunities for education it has to offer.
"The Fat Cat"
By the Mills
ISBN: 9781524582890 (softcover); 9781524582913 (hardcover); 9781524582906 (electronic)
Available at the Xlibris Online Bookstore, Amazon and Barnes & Noble
About the author
Belen Collantes Mills is a Professor Emerita at Florida State University, Tallahassee and was a Smith-Mundt/Fulbright scholar, earned her M.S. in Education and Ed.D. Degree from Indiana University, Bloomington. Notable recognitions include Community Leaders and Noteworthy Americans, Who's Who in American Education, and Who's Who in the World. She co-authored with Ralph Mills, her late husband, a pre-school software, The Magic Letter Factory, which won two national awards "Parent's Choice," and "The Coalition for Quality Children's' Media."
Ralph Ainslee Mills was a retired Professor at Valdosta State College, now Valdosta State University. He graduated at Indiana University, Bloomington, with an M.A. in Economics, and B.S. in Business Administration. His teaching experiences include Valdosta State University, University of Georgia, West Georgia College, and Hawaii Pacific University. Ralph was born in Jesup, Georgia; he was very proud of his family's British and Irish heritage. He served his country honorably in the U.S. Air Force intelligence unit.
###