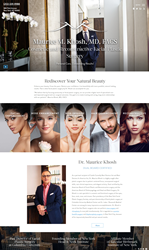 It is such an honor to be recognized and chosen for the 2021 New York Super Doctors list. I am proud to provide my patients with high-quality care and excellence in facial plastic surgery, says Dr. Maurice Khosh
NEW YORK (PRWEB) December 09, 2020
Dr. Maurice Khosh has been selected by Super Doctors® as one of the top doctors in New York for 2021. This award is given to the area's best doctors in various medical specialties. The list of distinguished physicians will be published in the May 9, 2021 edition of The New York Times and online at http://www.superdoctors.com. Selection for Super Doctors is a rigorous multi-step process designed to identify healthcare providers who have attained a high degree of peer recognition and professional achievement. Each year, MSP Communications undertakes a rigorous multi-phase selection process that includes a survey of doctors, an independent evaluation of candidates by the research staff, a peer review of candidates by practice area and a good-standing and disciplinary check. Nationwide, Super Doctors represents an exclusive and diverse group of doctors who demonstrate outstanding skill and attention to exceptional patient care.
Dr. Maurice Khosh carries a dual board certification in facial plastic surgery and otolaryngology. He is a highly respected physician who has earned multiple prestigious awards for his advanced technique and beautiful, natural-looking results in cosmetic procedures, such as facelifts, rhinoplasty and blepharoplasty. Additionally, Dr. Khosh offers a wide range of reconstructive procedures to address functional, traumatic or cancer-related defects of the face, nose and scalp. Beyond plastic surgery procedures, Dr. Khosh's practice offers a full menu of non-invasive services, including rejuvenation treatments for the eyes, cheeks, lips and neck.
"It is such an honor to be recognized and chosen for the 2021 New York Super Doctors list. I am proud to provide my patients with high-quality care and excellence in facial plastic surgery," says Dr. Maurice Khosh.
More about Dr. Maurice M. Khosh:
Dr. Khosh graduated from Albert Einstein College of Medicine in New York, where he was inducted into the AOA Medical Honors Society. He completed his residency training at Columbia University and then pursued a fellowship in facial plastic surgery at the University of Washington in Seattle. Dr. Khosh returned to New York where he joined the faculty at Columbia Presbyterian Medical Center, prior to moving into private practice. Dr. Khosh is academically affiliated with the Columbia University College of Physicians and Surgeons as a clinical assistant professor. He is closely involved with the American Academy of Facial Plastic and Reconstructive Surgery (serving on several committees) and the American Academy of Otolaryngology-Head and Neck Surgery (advising on the Board Examination Committee and Continuing Education Committee). He is a founding member of the New York Head and Neck Institute and is an affiliate member of the Vascular Birthmarks Institute of New York. His dedication and expertise in his field have made him one of the top plastic and reconstructive surgeons in the country. For more information on the services offered by Dr. Maurice Khosh, visit his website at http://www.facedoctornyc.com, or contact his office in Manhattan directly at (212) 339-9988.