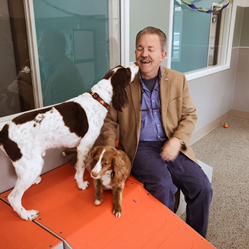 "We are committed to our doctors, teams, and the communities we serve. Our hospitals are led by some of the finest doctors and teams in our profession."-Dr. Bob Lester, Chief Medical Officer
VANCOUVER, Wash. (PRWEB) June 18, 2019
WellHaven Pet Health Completes Construction of 12 New AAHA-accredited Hospitals
WellHaven Pet Health, a family of companion animal veterinary hospitals headquartered in Vancouver, WA, announces the completion of 12 new hospitals—four of which include day camps for dogs. With all 12 of the new hospitals AAHA-accredited (or in the final stages of the intensive accreditation process) now open in Portland/Vancouver, Denver, and Minneapolis, WellHaven Pet Health has further demonstrated its commitment to the long-term health of the veterinary profession.
Chief Medical Officer Dr. Bob Lester said, "We are committed to our doctors, teams, and the communities we serve. Our hospitals are led by some of the finest doctors and teams in our profession."
Now serving over 40 hospitals, WellHaven Pet Health facilities are doctor-led, AAHA-accredited, Fear Free trained, technology-enabled, and supported by expert consultants and back office administration. The practice proudly embraces shelter partnerships, offers subscription care plans, and empowers veterinarians and their teams to succeed.
WellHaven Pet Health was also just honored as the Southwest Washington 2018 Start-Up of the Year. CEO John Bork stated, "We are humbled and honored by the award. Without question, we would not be here without the big hearts and minds of our doctors, technicians, and teams. This award is a great recognition to the quality work they do, each and every day."
About WellHaven Pet Health
Happy vets, healthy pets. You can't have one without the other. WellHaven Pet Health buys and builds outstanding veterinary practices across the country. We are committed as servant leaders to ensure the success of our doctors, our hospital teams, and our profession because when we all work together, our pets get better care and feel the love. That, to us, is what it's all about.
Media Contact
Alan Hwang
alan.hwang(at)wellhavenpethealth(dot)com