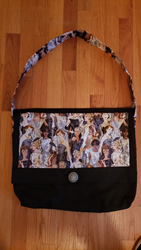 MADISON, Conn. (PRWEB) January 17, 2020
Entertainment entrepreneur and blogger, Laura Wellington, has launched a new venture. Called, "Wellington Rose Custom Handbags", women everywhere can now design their own unique handbags, celebrating the preferences and individuality of every woman.
The concept arose from Wellington's own desire for a handbag that met all of her handbag needs. "After 53 years of searching, I finally gave up and designed the perfect handbag for me. Women everywhere were coming up to me asking to share where I purchased my handbag. I finally agreed to take orders. The rest is history."
As Wellington believes that 'no two women should have the same handbag as no two women are the same', Wellington interviews each new customer, herself. From these interviews, the one-of-a-kind handbags are born.
The success of Wellington Rose Custom Handbags continues to flourish, especially as Valentine's Day nears. "How better to let the woman in your life know you love and appreciate her than through a handbag that reflects her individuality, uniqueness and specialness?" says Wellington.
To learn more, see Wellington Rose Custom Handbags or contact admin@wellingtonrose.com