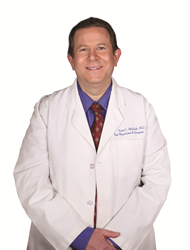 As the founder of Wellish Vision Institute, I am honored to be a part of these studies and to help develop cutting edge treatments for our patients."
LAS VEGAS (PRWEB) March 11, 2020
Kent Wellish, MD, the founder and medical director of Wellish Vision Institute, is proud to announce the start and continuation of the new clinical trials sector of the practice. At Wellish Vision Institute, they believe that clinical research helps enrich and develop better treatment options for their patients. In recent years, research has helped the practice make significant strides in gaining a clearer understanding of eye diseases and how to better treat them. "As the founder of Wellish Vision Institute, I am honored to be a part of these studies and to help develop cutting edge treatments for our patients."
Clinical studies are research trials that determine whether a medical treatment or device is safe and effective. Each study focuses on a specific disease and methods of how to better prevent, screen, diagnose, or treat the condition. A clinical study may also test how well medical treatments work and sometimes may evaluate whether the technology used is superior to existing technologies. Patients are expected to have eye exams and other tests, may need to take medications and/or undergo surgery, and will be asked to return for follow-up examinations which may vary depending on each clinical trial. The follow-up exams will help determine how well the treatment is working.
Wellish Vision Institute is currently looking for participants in studies for the management of glaucoma and pain following cataract surgery. They are searching for patients that have been told by their doctor that they have glaucoma, high eye pressure or are being scheduled for a cataract removal surgery. To qualify, you must be 18 years of age or older, and meet all other study related requirements. Participants receive a thorough screening evaluation of their eye health, follow-up visits at no cost to you, and you may be compensated for related time and travel. No insurance is required
About Wellish Vision Institute:
Since 1994, Wellish Vision Institute has been at the forefront of ophthalmology. With a diverse staff of highly trained and experienced professionals in all areas of eye care, and a commitment to deliver top-notch, individualized treatment, Wellish Vision Institute providers are confident that no matter what your vision needs are, they can help. Their services include: LASIK, refractive and cataract procedures, collagen cross-linking, and ICL implants.
You can schedule an appointment by visiting http://www.wellishvision.com or by calling 702-733-2020.