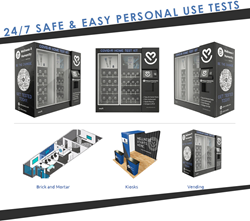 As approved COVID-19 vaccines slowly become available to the public, it's a fact that a substantial portion of the general population will continue to refuse vaccination. Wellness4Humanity recognizes that frequent and reliable testing for COVID-19 will remain critical into the future.
HOUSTON (PRWEB) January 18, 2021
Full-service biotechnology company, Wellness4Humanity, is set to open its New York City flagship store for safe, painless and rapid COVID-19 testing on January 25th at 225 West 34th Street, in the heart of NYC's Herald Square retail and transportation hub near Pennsylvania Station. The two-story, 9,000 square-foot New York flagship will soft-open from January 25th through January 30th (9:00am—5:00pm EST) by showcasing the biotech company's new line of take-home COVID-19 test kits and proprietary vending machines. The New York flagship will be fully staffed and open-to-the-public beginning the first week of February.
Wellness4Humanity's vending machines are the country's first to offer COVID-19 home test kits. The vending machines – which will dispense F.D.A. Emergency Use Authorization (E.U.A.) authorized rapid antigen and RT-PCR saliva tests – will eventually be available at thousands of brick-and-mortar and vending locations throughout the U.S., including New York City, Los Angeles, San Francisco, Boston, Dallas, Atlanta, Miami, Las Vegas, Chicago, Denver, Phoenix and other major markets. The venues for Wellness4Humanity's vending machines will include university campuses, shopping malls, retail corridors, hotels, music and entertainment venues and more. Wellness4Humanity is currently in talks with every major airport in the U.S., including those in San Francisco, Dallas/Fort Worth, Atlanta, Houston and other key U.S. markets.
As approved COVID-19 vaccines slowly become available to the public, it's a fact that a substantial portion of the general population will continue to refuse vaccination. Frequent and reliable testing for COVID-19 will remain critical into the future. Wellness4Humanity is working to make safe, reliable, painless at-home testing affordable and convenient with the nationwide roll-out of their secure vending machines.
"These vending machines are a significant milestone in helping to provide Americans with easier access to fast, highly accurate COVID-19 testing. We've seen similar vending machines placed in highly populated, highly trafficked areas of Hong Kong and the United Kingdom to help contain the spread of the virus, and, given the surge in cases the U.S. is currently experiencing, we hope to roll out our vending machines as soon as possible," said Lian Nguyen Pham, CEO and co-founder of Wellness4Humanity. "Automated testing is a convenient and safe way to test for COVID-19 in the comfort of your own home for one or multiple members of your household."
Wellness4Humanity's COVID-19 test kit vending machines will offer two tests, both available through contactless purchase and payment on a mobile device. The TRUSTPASS™ rapid antigen at-home test kit provides results in just 15 minutes, with no shipping or lab work required and a 97.4% accuracy and 100% specificity, meaning false negatives are unlikely. The at-home saliva RT-PCR test is done through a saliva collection rather than through the invasive and uncomfortable nasopharyngeal "brain scraping" swabs, and the samples are then sent to a partner lab using a prepaid FedEx shipping label. Customers receive their results from the saliva RT-PCR test within 48 hours with 99% accuracy. Results are sent to customers via Wellness4Humanity's TRUSTPASS™ smartphone app, through which Wellness4Humanity issues test results and declares someone "COVID-19 safe."
Wellness4Humanity's COVID-19 test kit vending machines were developed in partnership with San Francisco-based Swyft Inc., a software and technology services company that sells, manages and operates unattended retail solutions for brands. Earlier this year, Swyft Inc., partnered with New York City's Metropolitan Transportation Authority (M.T.A.) to place PPE-dispensing vending machines in 10 subway stations throughout the city. Other major clients of Swyft Inc., include CVS Pharmacy, 7-Eleven and Best Buy.
About Wellness4Humanity
Wellness4Humanity's client roster includes Fortune 100 entities in the travel and hospitality, retail and entertainment industries, among other sectors. Clients in the hospitality and media sectors include: the Atlanta Hawks NBA team; IHG (InterContinental Hotels Group), including Kimpton hotels; The Blackstone Group (owners of the Ritz-Carlton Kapalua on Maui, Hawai'i, and the La Quinta Resort & Club and PGA West, a Waldorf Astoria Resort, near Palm Springs, California); the Marriott Marquis Houston and the Hilton Houston; Orangetheory Fitness; WAGA-TV, FOX-5 TV Atlanta; Tyler Perry Studios in Atlanta; and "Magnum P.I." in Los Angeles. Additionally, Wellness4Humanity is already an official partner for at least one of the nation's five major airlines. Private clients for Wellness4Humanity's white-glove concierge service for in-home/in-office testing include: David J. Long (CEO & Co-Founder of Orangetheory Fitness) and his family; the multi-Platinum singer/songwriter, producer and actor, Post Malone; tech entrepreneur and former CEO of Zappos, the late Tony Hsieh, and others. W4Humanity is also assisting major pharmacy chains – including Houston's 25-door Legacy Clinics (https://www.legacycommunityhealth.org/) – process their employees' COVID-19 tests. Other pharmacies regularly refer their customers to W4Humanity because of its ability to process tests faster than other established laboratories. Private companies, including large attorneys' offices, are calling on W4Humanity at an ever-increasing rate to test their employees and clients. Fixed walk-in locations for W4Humanity can be found at Simon Centers shopping malls and other locations throughout Colorado, Utah, Georgia, California, Florida, Texas (at The Galleria Houston) and Hawai'i, with more states constantly being added. What sets W4Humanity apart from established laboratories is that W4Humanity has a highly skilled network of medical professionals ready-to-deploy throughout the U.S. to any event or gathering where requested. All W4Humanity staff members meet rigorous medical certification and are at minimum licensed health technicians (i.e. phlebotomists, etc.) reporting to the company's National Laboratory Director and State Medical Directors. To date, W4Humanity is the only privately-owned and operated, F.D.A. E.U.A.-certified company equipped to manufacture, market and deploy its proprietary PCR tests around the U.S. and world.
Wellness4 Humanity allows businesses that rely on mass-gatherings to re-open and operate safely. The TRUSTPASS™ system will allow social gatherings in permanent venues (i.e. nightclubs, catering halls, hotels, convention centers, shopping malls, bars/lounges, restaurants, etc.) as well as temporary venues (i.e. open-air music festivals, culinary festivals, film festivals, sporting events, etc.) to flourish once again.
Official, https://www.w4humanity.com/
Facebook, https://m.facebook.com/wellness4humanity/
Instagram, https://instagram.com/w4humanity?igshid=1jv08tlhoa30w
PRESS CONTACT (U.S.)
EMILY TAN MEDIA RELATIONS | EmilyTan@EmilyTanMediaRelations.com | +1(917) 318-3758