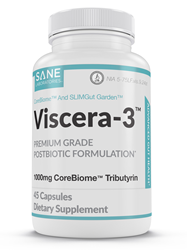 "Our goal was to develop a method to truly support gut health, because despite their popularity, probiotics and prebiotic supplements do not deliver the hoped-for results," Jonathan Bailor, CEO and Founder of SANESolution.
SEATTLE (PRWEB) January 26, 2021
Today, SANESolution is announcing an innovative POSTBiotic gut health supplement called SANE Viscera-3™ that makes probiotics and prebiotics obsolete while effectively supporting gut and immune health.
Although many people are familiar with taking probiotic and prebiotic supplements for gut health, most are unfamiliar with POSTBiotics' critical role in the body despite emerging science proving them far more important for both gut and immune health.
"As rates for COVID-19 continue to surge, maximizing gut health is vital with 70% of the immune cells located in the gut. Our goal was to develop a method to truly support gut health, because despite their popularity, probiotics and prebiotic supplements do not deliver the hoped-for results," says Jonathan Bailor, CEO and Founder of SANESolution. "Despite pre- and probiotic supplements making up a nearly $60 billion market, our research shows at least nine out of 10 people who take pre- or probiotics report no positive impact."1,2
On a quest to make optimal gut and immune health achievable for everyone, Bailor and his team chose to focus on POSTbiotics after discovering that when prebiotics and probiotics combine in the gut, they produce POSTBiotics. This led them to ask two breakthrough questions:
1. What if the main point of taking pre- and probiotics was to enable the body to create POSTBiotics?
2. If so, what if we could skip straight to giving the body POSTbiotics directly to provide more benefit in less time?"
"From a medical perspective, the 'holy grail' of gut and immune health would be to administer POSTBiotics directly into the gut. Historically, this had been impossible as traditional supplemental POSTBiotics were destroyed during the digestive process," states Chief Medical Director at SANESolution, Matthew Olesiak, M.D. "A method to prevent supplemental POSTBiotics from being destroyed by the digestive system would be the largest breakthrough in gut health in the last century."3
Bailor, Dr. Olesiak and their team of researchers are thrilled to report that they have arrived at this gut and immune health 'holy grail' with Viscera-3,™ the first and only synergistic gut/immune POSTBiotic formulation to survive digestion and successfully deliver what Harvard Medical School doctors call the "optimal" POSTBiotic directly into the gut.4
"We call it Viscera-3 because by bonding 3 molecules of the POSTBiotic Butyrate with one glycerol molecule, we prevent digestive destruction of the POSTBiotic and deliver the best gut and immune health results ever documented," explains Dr. Olesiak.
Recent independent clinical research studies echo Dr. Olesiak's optimism about the following benefits of the the POSTBiotic in Visera-3™:

Supports digestive and gastrointestinal health, reducing painful gas and bloating 5
Reduces intestinal inflammation, which can ease symptoms of inflammatory bowel disease (IBD) 6, 7, 8
Supports immune health 9
Soothes inflammation 10
Improves brain function 11, 12
Promotes weight loss/weight maintenance by boosting metabolism and increasing insulin sensitivity 13, 14
"Viscera-3™ provides the first widely available, non-prescription gut and immune health solution that can effectively brighten our global health outlook in these difficult times," believes Dr. Olesiak.
Backed by this patented molecular innovation, Viscera-3™ is the breakthrough POSTBiotic gut and immune health product of 2021, as it delivers the digestive, immune, metabolic, and overall health benefits promised but not delivered by pre- and probiotics. Additionally, Viscera-3™ eliminates the need for probiotic and prebiotic supplements.
Viscera-3 is available for purchase nationwide. For more information on Viscera-3™ or to purchase it, visit:
https://store.sanesolution.com/products/viscera-3-postbiotic-tributyrate-breakthrough
###
SANE Viscera-3™ Ingredients:
Magnesium (as Magnesium Oxide and Magnesium Bisglycinate Chelate)
Chromium (as Chromium Picolinate)
CoreBiome™ Tributyrin
Pomegranate (Punica granatum) Fruit Extract 40%
Ellagic Acid
Grape (Vitis vinifera) Seed Ext 95% Proanthocyandins
Other ingredients: Gelatin (Capsule), Magnesium Stearate, Silicon Dioxide, Cellulose.
References
1- Grand View Research. Probiotics Market Size, Share & Trends Analysis Report By Product (Food & Beverages, Dietary Supplements), By Ingredient (Bacteria, Yeast), By End Use, By Distribution Channel, And Segment Forecasts, 2019 - 2025. Feb 2018. Accessed Jan 20, 2021. https://www.grandviewresearch.com/industry-analysis/probiotics-market
2- Grand View Research. Prebiotics Market Size, Share & Trends Analysis By Ingredients (FOS, Inulin, GOS, MOS), By Application (Food and Beverages, Dietary Supplements, Animal Feed), By Region, And Segment Forecasts, 2014 - 2024. Feb 2018. Accessed Jan 20, 2021.
3- Gaschott T, Steinhilber D, Milovic V, Stein J, Tributyrin, a Stable and Rapidly Absorbed Prodrug of Butyric Acid, Enhances Antiproliferative Effects of Dihydroxycholecalciferol in Human Colon Cancer Cells, The Journal of Nutrition, Volume 131, Issue 6, June 2001, Pages 1839–1843, https://doi.org/10.1093/jn/131.6.1839.
4- 23- Verma MS, Fink MJ, Salmon GL, Fornelos N,‡ Ohara TE, Ryu SH, Vlamakis H, Xavier RJ, Stappenbeck TS, Whitesides GM. A Common Mechanism Links Activities of Butyrate in the Colon. ACS Chemical Biology 2018 13 (5), 1291-1298.
5- Zaleski, A, Banaszkiewicz A, and Walkowiak J. Butyric acid in irritable bowel syndrome. Prz Gastroenterol 8: 350-353, 2013.
6- Bach Knudsen KE, Lærke HN, Hedemann MS. Impact of Diet-Modulated Butyrate Production on Intestinal Barrier Function and Inflammation. Nutrients. 2018 Oct 13;10(10).
7- De Preter V, Arijs I, Windey K, Vanhove W. Impaired butyrate oxidation in ulcerative colitis is due to decreased butyrate uptake and a defect in the oxidation pathway. Inflamm Bowel Dis. 2012 Jun;18(6):1127-36.
8- Hallert C, Björck I, Nyman M. Increasing fecal butyrate in ulcerative colitis patients by diet: controlled pilot study. Inflamm Bowel Dis. 2003 Mar;9(2):116-21.
9- Kelly Cushing, David M Alvarado, Matthew A Ciorba. Butyrate and Mucosal Inflammation: New Scientific Evidence Supports Clinical Observation. Clin Transl Gastroenterol. 2015 Aug; 6(8): e108.
10- Andoh A, Bamba T, Sasaki M. Physiological and anti-inflammatory roles of dietary fiber and butyrate in intestinal functions. JPEN J Parenter Enteral Nutr. 1999 Sep-Oct;23(5 Suppl):S70-3.
11- Megan W. Bourassa,a,b Ishraq Alim. Butyrate, Neuroepigenetics and the Gut Microbiome: Can a High Fiber Diet Improve Brain Health? Neurosci Lett. 2016 Jun 20; 625: 56–63.
12- Steliou K1, Boosalis MS, Perrine SP. Butyrate histone deacetylase inhibitors. Biores Open Access. 2012 Aug;1(4):192-8.
13- Gao Z., Yin J., Zhang J., Ward R. E., Martin R. J., Lefevre M., et al. . (2009). Butyrate improves insulin sensitivity and increases energy expenditure in mice. Diabetes 58, 1509–1517. 10.2337/db08-1637
14- Gao, Z, Yin J, Zhang J, Ward RE, Martin RJ, Lefevre M, Cefalu WT, and Ye J. Butyrate improves insulin sensitivity and increases energy expenditure in mice. Diabetes 58: 1509-1517, 2009.