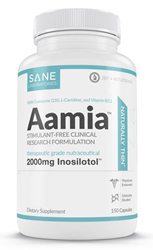 "Looking at big data from over 1.8 million subscribers, it became clear that cravings for sweet and starchy foods are the primary cause of weight gain during the pandemic. This is especially troubling given how much excess weight and blood sugar issues increase risk of severe COVID-19 infections."
SEATTLE (PRWEB) December 29, 2020
Today, SANESolution is announcing their solution to tackling the "quarantine 15" – the estimated 15 pounds gained by over 50 million stress eaters during 2020 – with an innovative supplement called SANE AAMIA™ that finally illuminates how to stop stress eating.
With the deadly COVID-19 pandemic spreading fear like a wildfire, and the resulting stress making weight gain almost inevitable, AAMIA™ is the answer to stress eating. Because stress triggers a release of the hormone cortisol causing excessive hunger and cravings for "comfort foods," these cravings then promote overeating that can lead to weight gain and diabetes which increase the risk for severe COVID-19 infection.1
Developed by a team of researchers headed by the CEO at SANESolution, Jonathan Bailor, SANE Aamia™ contains a proprietary blend of all-natural ingredients clinically proven to reduce hunger and carb cravings. 2, 3
"Looking at big data from over 1.8 million subscribers, it became clear that cravings for sweet and starchy foods are the primary cause of weight gain during the pandemic," said Jonathan Bailor, CEO and Founder of SANESolution. "This is especially troubling given how much excess weight and blood sugar issues increase risk of severe COVID-19 infections."
The Chief Medical Director at SANESolution, Dr. Matthew Olesiak, M.D. added, "There's no question that COVID-19 mortality risk increases as body fat levels increase, and there's never been a more difficult time to keep body fat levels down. It's a perfect storm we have to do something about."
At the heart of Aamia™ is chromium picolinate, a mineral that works with insulin to metabolize blood glucose. Several randomized, double-blind placebo-controlled studies – the "Gold Standard" of science – have shown that chromium picolinate can reduce carb cravings, especially cravings for sugar, bread, and pasta. 4
"Stress blocks your body from releasing insulin, and that lets glucose increase in your blood. The problem is that constant chronic stress – as many people have experienced during the pandemic – means that your blood glucose levels remain elevated triggering severe cravings and weight gain," Jonathan Bailor explains.
During his research, Jonathan Bailor discovered eight other nutrients also shown to synergistically and naturally support reduced carb cravings and increase fat burning including L-Carnitine and Choline5,6 which he also included in the supplement to provide people with complete control over carb cravings.
Dr. Olesiak further noted, "Science has shown us there is something we can do to take back control during these seemingly uncontrollable times. Aamia™ combines the best medically-validated craving combating nutrients into a formula that can and will change lives."
Now available for purchase nationwide, Aamia™ is the breakthrough health product of 2021 as it helps to control cravings, manage emotional eating, reverses the "quarantine-15," and assists with reaching weight loss goals for those looking to stay safe and healthy in the new year.
For more information, or to purchase Aamia™, visit: https://store.sanesolution.com/products/sane-aamia-supplement
###
About SANESolution:
SANESolution is a wellness technology and metabolic healing company dedicated to ending the Diabesity (diabetes plus obesity) epidemic. Backed by 1,300 clinical studies and thousands of success stories, SANESolution's metabolic healing framework and model is the only program endorsed by top doctors at the Harvard Medical School, Johns Hopkins, the Mayo Clinic, the Cleveland Clinic, and UCLA, and is the subject of New York Times best-selling books, and award-winning documentaries. Started as a not-for-profit research project by a ten-year Microsoft alum, Jonathan Bailor, SANESolution has transformed into a trusted international wellness brand focused on reversing the most common and devastating modern diseases. Using the latest innovations in biochemical research and a "service-first story-based" marketing approach to reach, lift up, and educate consumer health choices, SANESolution is changing the world of wellness by helping everyone from the underprivileged to the Fortune 500 CEO to regain their "SANEity" one new "SANE" consumer at a time. SANESolution was inducted into Inc. 5000's list of "Fastest-Growing Private Companies in America" for 2020. For more information, visit: http://www.sanesolution.com.
Scientific References:
1- Centers for Disease Control and Prevention. COVID-19: People with Certain Medical Conditions. Updated: Dec 1, 2020. Accessed Dec 23, 2020.
2 - Anton SD, Morrison CD, Cefalu WT, et al. Effects of chromium picolinate on food intake and satiety. Diabetes Technol Ther. 2008;10(5):405-412. doi:10.1089/dia.2007.0292
3 - Docherty JP, Sack DA, Roffman M, Finch M, Komorowski JR. A double-blind, placebo-controlled, exploratory trial of chromium picolinate in atypical depression: effect on carbohydrate craving. J Psychiatr Pract. 2005 Sep;11(5):302-14. doi: 10.1097/00131746-200509000-00004. PMID: 16184071.
4- Docherty JP, Sack DA, Roffman M, Finch M, Komorowski JR. A double-blind, placebo-controlled, exploratory trial of chromium picolinate in atypical depression: effect on carbohydrate craving. J Psychiatr Pract. 2005 Sep;11(5):302-14. doi: 10.1097/00131746-200509000-00004. PMID: 16184071.
5 - Pooyandjoo M, Nouhi M, Shab-Bidar S, Djafarian K, Olyaeemanesh A. The effect of (L-)carnitine on weight loss in adults: a systematic review and meta-analysis of randomized controlled trials. Obes Rev. 2016 Oct;17(10):970-6. doi: 10.1111/obr.12436. Epub 2016 Jun 22. PMID: 27335245.
6- Hongu N, Sachan DS., Carnitine and Choline Supplementation with Exercise Alter Carnitine Profiles, Biochemical Markers of Fat Metabolism and Serum Leptin Concentration in Healthy Women, The Journal of Nutrition, Volume 133, Issue 1, January 2003, Pages 84–89.