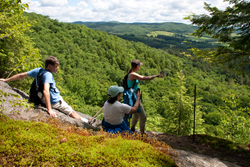 Founded in 1978, New Life Hiking Spa has been focusing on wellness long before it became popular.
Mendon/Killington, VT (PRWEB) April 01, 2016
Many vacation seekers have been looking for an alternative to vacations that run them so ragged, they go back to work feeling like they need another vacation. Because of this, wellness vacations are on the rise. Wellness vacations focus on rest, rejuvenation, fitness, spa services and getting healthier while on vacation.
New Life Hiking Spa has been offering wellness vacations for 39 summers in the Green Mountains of Vermont and is currently offering discounts for guests that book their upcoming wellness spa vacations for the 2016 season during the month of April.
Wellness travel is very popular these days, with its emphasis on healthy food, fitness, spa services and rejuvenation. However, New Life Hiking Spa has been focusing on wellness long before it became a buzzword in the travel industry.
Founded in 1978, New Life Hiking Spa has been a pioneer in the wellness spa industry and has become internationally recognized as an affordable fitness and wellness destination over the past four decades. New Life Hiking Spa caters to over 700 guests each spring through the fall season and boasts a return guest rate of forty percent.
New Life is open each year from mid-May through the end of fall foliage when hiking is at its peak. The dates for the upcoming 2016 season are May 12 – October 3 and reservations are now being taken for the upcoming season.
Known for its exhilarating hiking program, a world renowned weight loss retreat, delicious healthy meals and a comfortable atmosphere, New Life Hiking Spa offers the chance to experience the peace of the outdoors in a down-to-earth, country inn environment. It is ideally suited for small groups, couples or individuals trying to improve their fitness level and eating habits. Men feel as comfortable as women and solo travelers feel as comfortable as those coming with a friend.
New Life is open each year in the Mendon/Killington area of Vermont and offers a variety of vacation options including a 2-4 day mini-getaway, a 5-10 day Jump Start Program and an 11-day or longer Weight Loss Retreat.
All-inclusive prices start at $199 per person/per night for vacations booked by April 30, 2016. Details and blackout dates are available on their website. Prices include a room, three healthy meals per day, fresh fruit and vegetables as snacks, one guided hike every day (three levels offered per day to accommodate everyone's fitness needs), all fitness and yoga classes, one massage for every three night stay and evening lectures and cooking demos.
The Active Times, Huffington Post and Rand McNally all listed New Life as one of the Top Ten Health and Wellness Vacations for 2015. New Life was the winner of a 2015 Wellness Travel Award in the Affordability category by SpaFinder Wellness. New Life Hiking Spa was also the #1 spa for the Spas of America annual listing for 2014 and 2015.
New Life Hiking Spa was recently recognized in an article on Travel + Leisure.com as one of "Seven Affordable Spas for a Rejuvenating Getaway". The seven spas chosen were from all around the world and picked for their ability to help "rejuvenate your body, soul, and wallet".
Details on programming, and reservations can be found online at http://www.NewLifeHikingSpa.com.