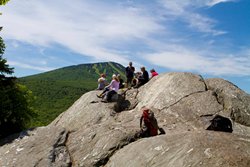 New Life Hiking Spa opened today for its 2016 season and will remain open until October 3rd. This marks New Life's 39th summer in Vermont.
Mendon/Killington, VT (PRWEB) May 12, 2016
New Life Hiking Spa first opened its doors in May of 1978 and has become one of North America's most recognized destination spa vacations. It opened today for its 2016 season and will remain open until October 3rd.
Offering healthy mini-getaways, wellness vacations and weight loss retreats, New Life is located in the Green Mountains of Vermont. For almost four decades, New Life has been an affordable, authentic wellness vacation that provides award-winning cuisine, fitness programming, cooking demos, hiking and massages at an all-inclusive price.
New Life has been the #1 ranked spa on the annual "Top 100 Spas" listing by Spas of America for 2014 & 2015. It was recently designated as the first WellHotel® Certified Destination Spa in the continental United States.
SpaFinder Wellness® 365, the world's largest resource for the spa industry, has selected New Life Hiking Spa as one of the "25 Pioneer Spas" that has shaped the spa industry as we know it today. In addition, New Life Hiking Spa is consistently picked as one of the top ten spas in the world by SpaFinder's Reader's Choice Awards for hiking, solo travel, weight loss, affordability and outdoor adventure.
New Life Hiking Spa is open for just 20 weeks a year, from mid-May through the beginning of October, when hiking is at its peak in the Green Mountains. Approximately 800 guests (about 40 each week) from all over the world come to visit New Life and the spa employs about 40 people each season. Massage therapists, chefs, office staff, hike leaders and fitness instructors make New Life a caring and comfortable vacation where guests at any fitness level feel at ease coming alone, with a friend or a small group.
Guests at New Life Hiking Spa experience rejuvenation with all-inclusive spa vacation packages that include a private room with a private bath, three nutritious meals per day, healthy snacks, guided hikes along the Appalachian Trail and Long Trail (three levels offered per day), yoga classes, fitness classes, cooking demos, healthy eating lectures, and one massage is included for every three night stay. Regular prices range from $229 - $269 per person/per night based on length of stay. However, with the current "Opening Special" offered to guests who book their 2016 vacation by May 31st, all-inclusive prices start at just $204 per person/per night. The 2016 season will run from May 12 – October 3 and reservations are currently being taken for this season.
More information can be found at http://www.newlifehikingspa.com.