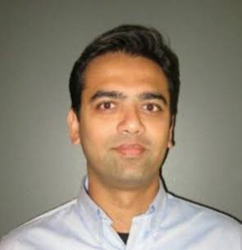 WeSecureApp has been serving customers across the globe for the past few years and have demonstrated deep expertise in enterprise security & compliance
DALLAS (PRWEB) February 13, 2020
WeSecureApp, an enterprise cyber security solutions company headquartered in Texas, announced today that seasoned silicon valley leader Swastik Bihani has joined the advisory board.
In his new role, Swastik will lead an advisory role for product marketing and branding of the newly launched award-winning product Strobes. He will work to expand WeSecureApp's brand awareness and develop strategic partnerships in the North American market.
"Swastik's experience in working with successful startups and their products through their life cycle will help WeSecureApp achieve its business goal of becoming the front runner in the cybersecurity industry," said Venu Rao, CEO at WeSecureApp.
Swastik, an alumnus of UC Berkeley's Haas School of Business, comes to WeSecureApp with more than 15 years of experience in managing and shepherding high-performance teams across engineering, product management and technical marketing spanning multiple geographies (US, UK, Brazil, India) in the cybersecurity industry. He is currently the Head of Products & GM, at Paypal, India, where he is overseeing all aspects of operations. Before this role, he was also the founding VP of Products at Simility, which got acquired for $120M. He also previously held marketing leadership positions at Juniper Networks and CipherCloud.
"WeSecureApp has been serving customers across the globe for the past few years and have demonstrated deep expertise in enterprise security & compliance!" said Swastik.
About WeSecureApp:
WeSecureApp is an enterprise cyber security solutions company specializes in establishing a secure eco-system for enterprises by designing an efficient security roadmap in congruence with all the stakeholders to meet compliance.
With its recent product launch; Strobes - A Risk-based Vulnerability Management Platform, WeSecureApp has won RSA Singapore Launchpad Award - Best Product Startup of APAC & Japan, Microsoft Highway to a Hundred Unicorns - Emerge-X, Nasscom Product Conclave - Top 5 Product Showcased and few more.
For more information, visit us at http://www.wesecureapp.com
Follow us on social media: Facebook, Linkedin, and Twitter.