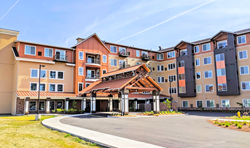 DES MOINES, Wash. (PRWEB) July 10, 2019
Wesley retirement communities and health services observes its 75th year with the grand opening celebration of its third community, Wesley Bradley Park in Puyallup, WA.
Wesley Bradley Park will officially unveil its newest community to the general public on Sunday, August 25 at 1:00 p.m. There will be music, hors d'oeuvres, giveaways and prize drawings.
A ribbon cutting ceremony by the Puyallup/Sumner Chamber of Commerce will be held on Tuesday, July 16 at 3:45 p.m. and will be followed by networking and tours.
The 19-acre property on South Hill features a five-story Lodge with 99 independent living residences, 50 Commons apartments with assisted living-like services and a Brownstone with 32 condo-style apartments. The memory care neighborhood, called The Arbor, will open with 17 apartments once state licensing has been approved.
Guests at the grand opening are invited to take self-guided tours of the community, where they will see Wesley's style of senior living, one that is full of choices. Known for its network of services—independent and assisted living, in-home care, skilled nursing, memory care and rehabilitative therapies—Wesley creates communities where residents can live with as many or as few supportive services as they want.
In addition to accommodations and health services, Wesley Bradley Park residents have access to amenity spaces that were developed with a wide range of interests in mind: a fully equipped health and wellness center, a learning center/theater, multiple dining venues, a creative arts center, a wood shop, a chapel/auditorium, a beauty salon, a club room and a library.
Wesley has partnered with Pierce College to provide various life-enriching programs in and around the campus through Wesley U, a free continuing education program funded by Wesley Community Foundation.
The location is also close to multiple shopping venues and Bradley Lake Park and its walking trails.
Future development in the community includes an additional Brownstone with 24 to 36 apartments and a care center for skilled nursing and rehabilitation services.
Construction on the community began in March 2017.
About Wesley retirement communities and health services:
Celebrating its 75th anniversary, Wesley Homes is a not-for-profit organization that offers a continuum of care for older adults. Wesley operates three retirement communities and a home health agency. Wesley Des Moines and Wesley Lea Hill in Auburn provide a network of services, including independent living, assisted living and Catered Living; skilled nursing and rehabilitation; and memory care. Wesley Bradley Park in Puyallup provides independent living, Catered Living and memory care. Wesley Health & Home Care provides Medicare- Medicaid-certified services, in-home care and hospice services to clients in King and Pierce counties.