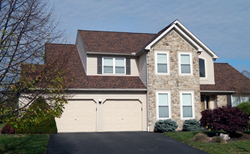 Choosing who will replace your roof should be decided by the quality of workmanship and the warranty that the roofing company provides to protect your investment.
West Chester, PA (PRWEB) May 09, 2014
Your roof is leaking and it must be replaced. But a new roof is a big investment and there are so many roofing companies out there. How do you know if you are hiring the right roofing company? There are a lot of things to consider when replacing your roof. The first thing in most people's minds will be, "Do I want a shingle, metal, or tile roof?" but once that decision is made, choosing who will replace your roof should be decided by the quality of workmanship and the warranty that the roofing company provides to protect your investment.
Some people might try to cut costs by finding a few friends and trying to do it themselves, not realizing that they will lose out in the long run because the warranty on their roofing materials will have a shorter coverage period than those same materials installed by a certified professional. Also, they are at the mercy of the skill set of their "roofers", trusting them to install the materials correctly.
Others will look strictly at the bottom line. What is the price that are they being quoted? Many unscrupulous roofers will give a "low ball" price, but a low price may come at a cost to you. Quite often this "deal" will leave you unprotected because the company may not be providing their employees the necessary insurances to cover any damages or injuries that might occur on the jobsite and expecting your homeowner's insurance to cover these issues should the need arise. The warranties offered by these roofers will be limited and usually very short term.
So a wise person should not just hire the first roofer they find. When you contact someone about replacing your roof be sure to get answers to these questions:

Does your roofing company have experience installing the style of roof I want?
Are the roofers that will be working on my roof manufacturer certified? Which companies/materials?
Is your roofing company fully licensed and insured to do the roofing work? Make sure you see their paperwork.
What type of roofing warranty does my project have available?
If there is a problem after the installation how do I contact you? What will your roofing company do to repair this problem?
The right roofing company will welcome these questions and any others you might have. Manufacturer certified roofers provide a quality materials, workmanship, and warranties to their customers.
Certitude Home Improvements is the leading CertainTeed ShingleMaster roofing contractor in Downingtown and West Chester, Pennsylvania. We are able to offer CertainTeed's 4-Star SureStart Plus warranty coverage when we install a CertainTeed Integrity Roof System on your single family home. This warranty provides you with 50 years of non-prorated coverage for materials and labor, as well as any necessary tear-off and disposal should we need to repair or replace any portion of your new roof. This coverage is also fully transferable should you sell your home within 12 years of your roof replacement, giving your home added value to potential buyers.
If you live in the Downingtown or West Chester area, discover how Certitude Home Improvements is the right choice by visiting our website and contacting one of our roofing consultants today!