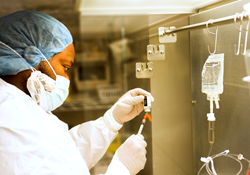 "West Cancer & Research Institute has been involved in clinical trials for more than 75% of the cancer-related drugs approved by the FDA over the last 10 years"
GERMANTOWN, Tenn. (PRWEB) March 07, 2019
In 1979, Google, CD players, disposable cameras, and even DNA fingerprinting had not been invented. But in 1979, Dr. Bill West opened the doors to West Clinic in Memphis, Tennessee as the region's first cancer treatment center after losing his mother to this devastating disease. Today, the death rate from breast cancer has decreased 40% thanks to clinical research, and West has been on the front lines of testing the newest drugs and techniques to continually improve outcomes for cancer patients around the world.
"Our new name, West Cancer Center & Research Institute (WCCRI ) is further proof that we are committed to clinical trials, more than ever, as we enter our 5th decade of existence," according to Kurt Tauer, MD, FACP, Chief of Staff and co-founder. "West takes great pride in being a truly comprehensive cancer center with over 99 oncology specialists trained at the highest ranked programs including: MD Anderson, Memorial Sloan Kettering, and Mayo Clinic. Our experienced and respected team of medical, surgical, radiation and gynecologic oncologists, interventional and diagnostic radiologists, a multidisciplinary care team and robust patient support programs in 12 locations spanning Tennessee, Mississippi, and Arkansas, is why West is the regional leader in adult cancer care.
Medical Director and co-founder, Lee Schwartzberg, MD, FACP says, "We have always been devoted to researching the most promising treatments for our patients. In the 1990's we were the first in the region to provide blood stem cell transplants and the first to test trastuzumab in breast cancer, leading to the approval of this drug which has saved so many lives. More recently, we were the first to test immunotherapy with checkpoint inhibitors, which have transformed the entire practice of oncology, by stimulating a patient's own immune system to kill cancer."
West Cancer Center and Research Institute has accomplished so much over the last 40 years from being the first to conduct drug development studies with a Phase I unit, including first-in-human cancer drugs, to being involved in clinical trials for more than 75% of the cancer-related drugs approved by the FDA over the last 10 years.
West's cumulative expertise, knowledge, and experience acquired over the past 40 years is unmatched in Memphis and the Mid-South. Patients have a choice and our level of expertise and relentless drive to improve care is what drives patients to our cancer center. Schwartzberg states, "We are so incredibly excited to acknowledge the role clinical research plays in the care of our patients. Our new partnership with the national community oncology program, OneOncology, and the ability to share best oncology-specific expertise and clinical trials provides a remarkable opportunity to continually decrease the mortality rate of cancer."