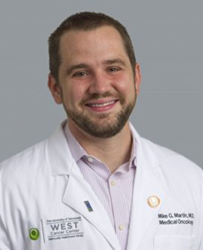 GERMANTOWN, Tenn. (PRWEB) December 30, 2020
West Cancer Center & Research Institute is home to more than 100 oncology/hematology specialists with 1000+ publications in numerous esteemed medical journals. This level of commitment to further understand and educate other cancer specialists across the world is why West is considered a premier, adult cancer center.
Participating in clinical research and having publications accepted is a very arduous process, but West providers like Dr. Michael Martin are dedicated to uncovering the mysteries of cancer. His recent publication entitled "Novel Therapies for Relapsed or Refractory Diffuse Large B-Cell Lymphoma" in the November 2020 issue of the International Journal of Molecular Sciences, addressed the most common type of non-Hodgkin lymphoma in adults. This paper was of great interest to fellow oncologists both nationally and internationally.
Authors recognized for valuable publications have increased acceptance rates in future journal issues. West Cancer Center is honored to have Dr. Martin and other providers in this select group for the betterment of cancer care everywhere.
About Michael G. Martin, MD

Residency: Internal Medicine at Duke University Medical Center
Fellowship: Medical Oncology at Washington University in St. Louis School of Medicine
Other recent publications:
Distribution of Breast Cancer Subtypes Among Nigerian Women and Correlation to the Risk Factors and Clinicopathological Characteristics.
Adeniji AA, Dawodu OO, Habeebu MY, Oyekan AO, Bashir MA, Martin MG, Keshinro SO, Fagbenro GT.World J Oncol. 2020 Aug;11(4):165-172. doi: 10.14740/wjon1303. Epub 2020 Aug 10.PMID: 32849957
Reliance on Self-Medication Increase Delays in Diagnosis and Management of GI Cancers: Results From Nepal.
Dulal S, Paudel BD, Wood LA, Neupane P, Shah A, Acharya B, Shilpakar R, Acharya SC, Karn A, Poudel B, Thapa RR, Acharya A, Martin MG.JCO Glob Oncol. 2020 Aug;6:1258-1263. doi: 10.1200/GO.20.00202.PMID: 32762562 .
Feasibility of Fewer Fraction Palliative Radiotherapy in Resource-Limited Setting.
Dulal S, Adeniji AA, Martin MG. World J Oncol. 2020 Apr;11(2):76-77. doi: 10.14740/wjon1271. Epub 2020 Mar 29.PMID: 32284776
About West Cancer Center & Research Institute:
West Cancer Center & Research Institute is the region's comprehensive leader in adult cancer care and research. With a focus on clinical research and the latest treatments,West Cancer Center patients receive the most effective, individualized care possible.
With over 100oncology providers and 7 clinical campuses across the Mid South , our mission is to provide innovative, superior adult cancer care with a singular focus on physician-driven decisions to do what is best for patients, this community, and the future of cancer care. For more information, please visit westcancercenter.org or call 901.683.0055