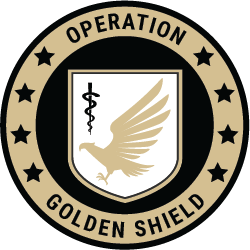 Protecting Our Veterans and Supporting Our Caregivers
VIENNA, Va. (PRWEB) June 10, 2020
Operation Golden Shield was established by a coalition of West Point cadets and Annapolis midshipmen to serve aging Veterans during this unprecedented time of the COVID-19 pandemic. With almost 2 million cases and over 110,000 deaths in the United States alone, the coronavirus remains a significant threat to many vulnerable populations to include Veterans in nursing homes. This student-led community effort aims to collect and donate priority items for Veterans in long-term care facilities and urgently needed medical supplies for the care providers caring for them.
Operation Golden Shield also serves as a positive counter point to the heightened racial tensions and rhetoric of recent days and provides a shining example of what color-blind collaboration and solidarity look like. Despite national protests against the killings of George Floyd and others, the calls for racial justice and remedies for the fault lines of systemic inequities, and the shifting landscape of political dialogue, Operation Golden Shield's organizing committee is an incredibly diverse leadership group consisting of cadets and midshipmen of all races and ethnicities. They are serving Veterans and their caregivers and doing so in Washington, DC, where 75% of COVID-19 deaths are among African-Americans. Their leadership and service are exemplars of what our nation should aspire to.
Operation Golden Shield was founded by Caleb Suh – a first year cadet at the United States Military Academy and a graduate of James Madison High School in Vienna, Virginia – who coordinated with the Community Living Center (CLC) at the D.C. VA Medical Center to identify the most urgent needs of health care providers and of CLC residents. The next drive-by donation event is scheduled for Saturday, June 27, 2020, from 10 am to 12 pm in the parking lot of the Vienna Presbyterian Church (124 Park Street, NE, Vienna, VA), and delivery to the VA is scheduled for Tuesday, June 30, 2020, at 10 am.
"Due to the pandemic, many of us unexpectedly found ourselves back in the communities where we had grown up. It became clear that there were urgent needs among Veterans, within our health care system, and among patients in long-term care facilities, and all of us had important social responsibilities to contribute," said Cadet Suh. "Through our actions and our engagement with our community, we also help address the societal schisms and the racial divide that we are seeing in our country. Working on meaningful activities, on common missions – that is how we bring everyone together. It is an honor to serve the Veterans who have given so much to our nation, together as a unified front."
# # #
More information about Operation Golden Shield is available at http://www.operationgoldenshield.com.