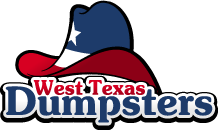 West Texas Dumpsters opens new facility in Kermit
MIDLAND, Texas (PRWEB) August 06, 2019
West Texas Dumpsters has opened its third location in Kermit, TX to better serve the waste management needs of the Permian Basin. "Kermit, TX is strategically located along the 302 corridor which gives us better access to Orla, Mentone and Southeast New Mexico. The basin is exploding and with increased traffic we are going to be able to cut down windshield time and improve our overall service level," -said a spokesperson from the company. West Texas Dumpsters is the premiere provider of roll off dumpsters, portable toilets, portable sanitation services, contaminated soil hauling and waste management consulting. The company plans to be more price competitive on locations that would previously require more truck time and man hours.
West Texas Dumpsters has a Preferred Status in PEC Safety and an A rating in ISNetworld. All drivers are full time employees and an in house Safety Officer ensures the highest level of safety and compliance training for all employees.
West Texas Dumpsters maintains a 30 plus new fleet of custom spec trucks, robust enough to handle the harsh driving conditions in the basin.
West Texas Dumpsters offers services to the Oil & Gas, Power, Wind, Solar and civil construction industries. In addition to waste management services they offer a turn-key solution for managed site services. This includes everything from ice machines to full office trailers.
West Texas Dumpsters is a permitted Texas Rail Road Commission Waste Hauler (Permit # 6199) and fully upholds all compliance regulations pertaining to debris hauling and disposal.