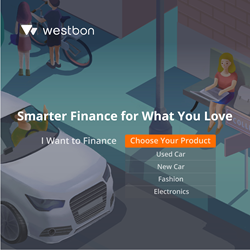 With the introduction of personal loans, Westbon is listening to our community and trying to meet this important need of such customers, who is a long-time underbanked group in this country.
Chicago, IL (PRWEB) April 27, 2017
A fast-growing online lending platform, Westbon Inc., expands its personal loan ability to target international students with no or thin credit history. This new service offers an affordable payment option for international students who make large purchases for personal use, such as electronics, clothing and accessories, travel funds, training programs, studying abroad.
Founded in 2015, Westbon started out as the first online auto financing platform designed to meet the needs of international students in the USA. Westbon caters to a populace who have long been denied of access to American credit system due to their lack of Social Security Number (SSN) and credit score.
A recent survey conducted by Westbon interviewed 515 college students regarding the way they fund their living expenses. Over 61% of the respondents state that they would consider using financing if they had the option to pay in monthly installments, rather than paying in full when making major purchases.
Subsequently, the survey results indicate the primary factors that keep international students from using personal loans when they make such large purchases:
1) The difficulty for such group of students, who have no or thin credit history, to get approved for loans in the first place;
2) Exceptionally high Annual Percentage Rate (APR) even if they get approved.
In order to resolve this situation, Westbon brings in closed-end personal loans catered to international students to control credit card balance and maintain a good credit score. "With the introduction of personal loans, Westbon is listening to our community and trying to meet this important need of such customers, who is a long-time underbanked group in this country," Hao Liu, CEO and co-founder of Westbon, stated. Westbon's personal loan service offers customers an alternative to counter the high interest rate and the outstanding balance of credit cards.
"The transparency and simplicity of the application process, the flexibility of loan terms, and the unprecedented underwriting approach are the fundamental elements that make Westbon unique in this marketplace," added by Yifeng Ouyang, COO and co-founder of the company. Whereas most traditional banks and credit card companies tend to turn down international students' applications due to insufficient credit scores, we take on an innovative approach and look into the applicant's academic and financial status, according to Ouyang. "With a more comprehensive credit assessment, we ease the loan application process for international students with higher approval rates and better interest rates." On a monthly basis, Westbon also reports customers' payment history to Experian, one of the three largest credit bureaus in the nation, enabling customers to improve credit scores and build credit history in the U.S.
Westbon's new personal loan product is currently available in 8 states, including California, Illinois, Indiana, Michigan, New Jersey, New York, Pennsylvania, and Utah. More information regarding Westbon's personal loan services can be found at: https://www.westbon.com/our-services/personal-loan
About Westbon Inc.
Founded in 2015, Westbon is the first online financing platform that provides international students in the U.S. with affordable financing solutions without having a Social Security Number or credit history. Westbon's auto loan service is now available in 28 states, and its personal loan service is offered in 8 states. It is dedicated to connecting the underserved international students of the U.S. credit system and helping them build credit history at an early stage by reporting on-time payments to major credit bureaus, such as Experian.