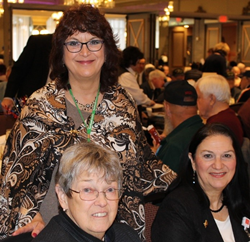 WESTCHESTER COUNTY, N.Y. (PRWEB) November 19, 2019
Continuing the tradition of honoring those who have served our country, three Westchester County hospices hosted their 10th annual inter-hospice countywide breakfast on Tuesday, November 12. The event, which was held at The Hilton Westchester in Rye, honored county veterans who proudly served in all five branches of the military: Army, Navy, Air Force, Marines and the Coast Guard, as well as the National Guard. A record number of more than 600 veterans and supporters attended the breakfast, making it one of the area's largest indoor ceremonies for veterans.
The event sponsors were Hospice of Westchester, Hospice Care in Westchester and Putnam and Jansen Hospice and Palliative Care. Co-sponsors of the event included County Executive George Latimer, Westchester County Veterans Service Committee, NY Presbyterian/Lawrence Hospital and The Hilton Westchester.
The morning began with the posting of the colors and Pledge of Allegiance by the Hawthorn Post 112 American Legion Color Guard. Following a welcome from Janine Rose, mistress of ceremonies, Reverend Bruce C. Page shared a touching invocation. Speakers included Westchester County Executive George S. Latimer; Ronald C. Tocci, director, Westchester County Veterans Service Agency; and keynote speaker Command Sergeant Major Jack H. Love, 20th Command Sergeant Major, U.S. Military Academy at West Point, who gave a heartfelt address to the veterans and supporters in attendance.
During the program, the West Point Band performed patriotic songs, including the fight song for each military branch and "God Bless America." The program ended with Reverend Ervin R. Graves lead a Remembrance Ceremony, joined by Retired Staff Sergeant Kenneth Barnes, who performed a moving rendition of Taps.