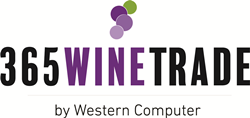 "Western Computer is proud to deliver an ERP solution designed specifically for Wine and Spirit Distributors."
OXNARD, Calif. (PRWEB) March 25, 2020
365WineTrade by Western Computer offers embedded multi-state compliance and reporting, inventory and warehouse management, automated tax calculations and chargebacks, flexible industry pricing, container management, centralized data, demand planning, mobile apps, and more.
365WineTrade by Western Computer was built specifically for wine distributors to optimize, automate, and simplify operations, allowing wine distributors to increase volume and enhance reporting. To learn more, please visit http://www.westerncomputer.com/solutions/365WineTrade.
"We are proud to deliver an ERP solution designed for wine distributors," says Katherine Turner-Lawrence, Western Computer's Vice President of Sales & Marketing. "Integrating 365WineTrade with Microsoft Dynamics 365 ERP provides customers with a state-of-the-art ERP solution that fits their unique industry specific business needs. We have several wine and spirits wholesale distributors who are realizing many operational improvements with our 365WineTrade solution. It is not enough to offer an industry specific solution we also offer industry experience and knowledge to help them succeed in the wine distribution business."
Western Computer, a Microsoft Gold Certified ERP Partner, has been providing ERP, CRM, supply chain management, and business intelligence solutions for over three decades. Western Computer has helped hundreds of companies, from midsize to some of the world's largest, in selecting, implementing and reaching their business and Cloud technology objectives.
About Western Computer
Western Computer has designed and implemented business solutions for a wide array of industries since 1987. Over 160 resources across North America provide deep knowledge that is unmatched for Distribution, Manufacturing, and Project-Driven industries. Western Computer has also been highly ranked in both Accounting Today's VAR 100 and Bob Scott's Insights VAR Stars for several consecutive years.
To learn more, visit http://www.westerncomputer.com or call (805) 581-5020. Connect with us on Twitter, LinkedIn and Facebook.
Contact
Katherine Turner-Lawrence
Vice President of Sales & Marketing
katherine.turner@westerncomputer.com
805-581-5020