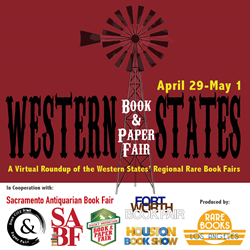 "There is something for everyone at every price point at this fair"
LOS ANGELES (PRWEB) April 28, 2021
Regional book fairs that have been put on hold by the COVID-19 pandemic have found a way to survive by banding together for the Western States Virtual Book & Paper Fair. More than 150 leading specialists in antiquarian books, fine prints, photography, maps, and ephemera are taking part in the free online event, which kicks off Thursday, April 29 at 9 a.m./PDT at https://westernstates.getmansvirtual.com.
Drop in at the Between the Covers Rare Books booth to view a first edition of Ernest Hemingway's classic A Farewell to Arms (1929). Freshly vaccinated and preparing to hit the road again? Check out Bookpress Ltd.'s booth for classics of automotive and camper travel such as May Southworth's 1923 The Motorist's Luncheon Book. Seeking opportunity to build your autograph collection? Cross Genre Books is presenting a collection of novels signed by the visionary African American science fiction writer Octavia Butler, while John Windle Antiquarian Bookseller is offering a signed letter by renowned physicist Albert Einstein.
"There is something for everyone at every price point at this fair," said producer Jen Johnson. "The best part is you can visit booksellers from Los Angeles to London at any time of the day or night because the book fair remains open 24 hours a day during the fair."
In addition, a wide variety of special free talks and virtual tours are being held, including a bilingual session in Spanish and English about the intertwined history of the United States and Mexico through an exploration of original documents. Experts on the Occult, as well as Western Americana, will speak about collecting in these two different genres, award-winning author Matt Ruff will discuss his novel Lovecraft Country (2016) and its transformation into an HBO series, and Karina Longworth will share her experiences in the archives preparing for her podcast You Must Remember This. Visit the book fair website to learn more and sign up for free tickets to these special events.
Produced by Rare Books LA and sponsored by Biblio.com, this unique event is presented in conjunction with the Rose City Book & Paper Fair, the Seattle Antiquarian Book Fair, the Sacramento Antiquarian Book Fair, The Rocky Mountain Book & Paper Fair, the Albuquerque Book Fair, the Fort Worth Antiquarian Book Fair, and the Houston Book Show. The Fair is open continuously through 8 p.m./PDT on Saturday, May 1.
Bookmark the website, where you will find a complete list of exhibitors and you can RSVP for the free specialty talks and tours, and don't forget to sign up for free tickets at https://westernstates.getmansvirtual.com