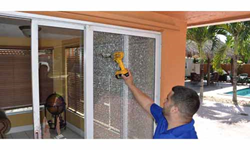 At Labor Day, many West Palm Beach area homeowners and businesses turn their eyes towards Fall and Fall repairs
West Palm Beach, FL (PRWEB) September 02, 2016
With the Labor Day Weekend fast approaching, Express Glass and Board Up announces clarifications regarding available services into the West Palm Beach city region. The company will be offering not only emergency glass repair services but also sliding glass door repair and replacement services. Area residents often use the last unofficial summer weekend to turn towards home repairs, including sliding glass door upgrades.
"At Labor Day, many West Palm Beach area homeowners and businesses turn their eyes towards Fall and Fall repairs," commented Yaniet Santos, general manager of Express Glass. "With that in mind, we are announcing a clarification that we will be offering sliding glass door repairs and replacements during the holiday weekend."
Persons interested in scheduling an appointment are urged to contact Express Glass prior to Friday at 561-207-8081. Those who'd like to visit the website first can visit either the sliding glass door replacement page at http://www.expressglassfl.com/sliding-glass-door-parts-replacement/ or the sliding glass door repair page at http://www.expressglassfl.com/home-window-repair/sliding-glass-door-repair/.
Note that this offer extends to not only West Palm Beach but to nearby cities, as well. If the parts are not in stock, the company will also be offering 'board up' services to temporarily board up a faulty window or door until replacement parts come available after the holiday weekend.
Labor Day in West Palm Beach: a Time To Reassess and Prepare
Labor Day is the unofficial end of summer throughout the United States. In South Florida cities such as West Palm Beach, residents often turn towards the Fall with an eye to home improvement, even as they may continue to worry about hurricane season. Emergency glass repair orders can often be dealt with, directly, as Express Glass carries one of the largest inventories of sliding door parts and complete doors. If repairs cannot be achieved, the company can 'board up' the problematic door until repair parts can be ordered. The company also gives out no obligation estimates, allowing the busy homeowner to consider repairing vs. replacing a sliding door. In this way, even an emergency repair over the Labor Day weekend need not be dramatically costly, and the homeowner or business owner can make a reasoned judgement as to whether repairing or replacing is the best option.
About Express Glass Repair and Board Up
Express Glass and Board Up Inc. is a family owned and operated glass repair business with more than 20 years of experience. Their professional technicians and the large variety of inventory make Express Glass the top glass repair service. If customers are looking for Miami glass repair or Ft. Lauderdale glass repair as well as glass repair in Delray Beach or West Palm Beach glass repair, please reach out to the company for a free estimate. If customers need a 24/7 Sliding Glass Door repair service in Ft. Lauderdale or Boca Raton or Miramar, technicians are standing by. The company specializes in sliding glass door repair and window glass repair; technicians will handle any glass replacement situation efficiently. Home or business glass repair is the company's main priority.
Express Glass Repair and Board Up
http://www.expressglassfl.com/