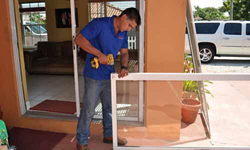 The West Palm Beach population can have specific glass repair issues that other Florida cities don't normally deal with
West Palm Beach, Florida (PRWEB) May 29, 2017
Express Glass & Board Up, an expert sliding glass door service in West Palm Beach, is proud to announce a new posting schedule to better serve Florida's historic home community. The company is announcing ambitious new blog posts focused on West Palm Beach glass repair issues, just in time for the busy summer 'do it yourself' season.
"The West Palm Beach population can have specific glass repair issues that other Florida cities don't normally deal with," commented Yaniet Santos, General Manager of Express Glass. "For instance, many districts have historical homes that need special care and attention, including windows and sliding glass doors. We want to serve residents in the best possible way by getting out information to their specific glass problems quickly. Our new commitment to blogging for summer, 2017, makes an exciting bookmark for area residents hungry for up-to-date tips circa 2017."
To keep up with the new blog posts, area residents are urged to visit the West Palm Beach informational page at http://www.expressglassfl.com/west-palm-beach-glass-window-repair/. There, they can bookmark the location, and/or click up to the company's lively blog. Look for new posts in May, 2017, with a focus on tips and tricks for glass repair. Information about patio door repair, window glass replacement and upgrading windows to hurricane resistant glass can also be found. Another good way for area residents to browse posts in this series is to bookmark, http://www.expressglassfl.com/blog/tag/west-palm-beach/, which focuses on West Palm Beach issues.
Sliding Glass Door Repair in West Palm Beach has Made History
Florida may be known as a vacation destination to many, but it is also a place of historical monuments and special residences. People looking to view the best in Mediterranean revival-style homes can visit the El Cid neighborhood in West Palm Beach. The homes can be a great source of pride for homeowners in the West Palm Beach area. Special attention and great care may have to be used in order to maintain the beauty of a revival-style bungalow. Maintenance can include frequent care of window glass and patio doors. Outside sliding glass door repair services may not have the tools or skills to properly care for a broken window in a historical home. A unique home may require a glass technician sporting specialized skills to handle sliding glass door repair properly.
Express Glass & Board Up has recently announced an upgrade to the site's blog posting schedule. Extraordinary neighborhoods such as El Cid and Grandview Heights can require special information about sliding glass door repair. Revival-style homes may have to retain specific standards yet require modern glass repair technology. Types of glass such as high-impact glass, plate glass and wired glass may prove to help maintain the safety of a cherished historical home. Homeowners may also have questions about fixing, replacing and cleaning windows. A more robust blog posting schedule for sliding glass door repair in West Palm Beach can help get answers out quicker. Residents may be proud of living in an uncommon historical home. Locals can also be certain to find an exceptional glass repair service to match.
About Express Glass Repair and Board Up
Express Glass and Board Up Service Inc. is a family owned and operated glass repair business with more than 20 years of experience. Professional technicians and the large variety of inventory make Express Glass the top glass repair service. If customers are looking for West Palm Beach window glass repair as well as glass repair in Delray Beach or Miami glass repair, please reach out to the company for a free estimate. If customers need a 24/7 Sliding Glass Door repair service in West Palm Beach or Boca Raton or Miramar, technicians are standing by. The company specializes in sliding glass door repair and window glass repair; technicians will handle any glass replacement situation efficiently. Home or business glass repair is the company's main priority.
Express Glass Repair and Board up
http://www.expressglassfl.com/