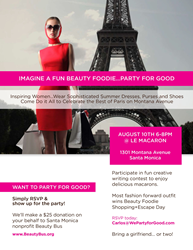 We're inviting women who love the Beauty Bus to RSVP for Good; attend exclusive party to earn donations for your favorite nonprofit
Santa Monica, CA (PRWEB) August 03, 2017
Women RSVP for Good and attend exclusive party, 'Celebrate Paris on Montana Avenue' to earn donations for the Beauty Bus Foundation. The fun party is being hosted at Le Macaron on Montana Avenue, on August 10th from 6 to 8 pm, and sponsored by Recruiting for Good.
According to Recruiting for Good Founder Carlos Cymerman, "We're inviting women who love the Beauty Bus to RSVP for Good; attend exclusive August Party to earn donations for your favorite nonprofit."
How Women Attend VIP Party & RSVP for Good
1. RSVP by email to Carlos(at)WePartyforGood(dot)com to secure a spot for exclusive August 10th Beauty Foodie Fashion Party for 30 women, from 6 to 8 pm.
2. Every woman, who RSVPs and also attends the August party results in a $25 dollar donation from Recruiting for Good to the Beauty Bus, a Santa Monica Nonprofit.
3. Women who RSVP and attend, can bring a favorite plus one (BFF, life partner, or relative) to the party, and earn an additional donation for the Beauty Bus.
About
Recruiting for Good is a fun social staffing company that has been connecting talented technical professionals to great jobs since 1998. Our purposeful mission is to celebrate life often by sponsoring fun parties, creative writing contests, and 1 on 1 mentoring services. To find the best talent and help make a difference; or find your next job and party for good, email Carlos(at)RecruitingforGood(dot)com
PRESENCE
Inspired Party...'Celebrate Paris on Montana Avenue' PRESENCE...Personal Purpose Mentoring
Beauty Bus Foundation
Mission is to deliver dignity, hope and respite to chronically or terminally ill men, women and children and their caregivers through beauty and grooming services and pampering products to learn more visit http://www.BeautyBus.org