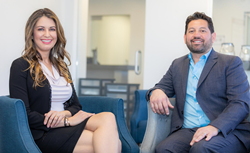 The philosophy and the mission here is to satisfy their customers, to make them comfortable, and to explain everything in depth so they have a full understanding.
PHOENIX (PRWEB) November 09, 2020
Westwind Integrated Health offers IV sedation to help soothe fear and anxiety amid the COVID-19 crisis and encourage patients to receive the life-changing, and at times lifesaving, care they need. To help make receiving care as effortless as possible, they are now providing treatment with or without a referral. Offering both medical and dental care from one prestigious team of dentists and primary care providers, Westwind Integrated Health offers the convenience and comfort patients require during such challenging times.
Many clinicians have noticed a hesitation in patients to receive the care they need. With a reluctance to schedule appointments from regular maintenance visits to even emergency care, patients are choosing to skip treatment that can turn out to protect them from the condition they are trying to avoid. If left untreated, seemingly small dental conditions like gingivitis and gum disease can lead to systemic health disorders and put an unnecessary strain on the immune system leaving patients more susceptible to infection and harmful viruses like coronavirus.
Raising awareness of the harmful effects of avoiding medical and dental care, the team at Westwind Integrated Health is also educating patients on the benefits of sedation dentistry. Sedation treatment can range from limiting physical discomfort, to minimizing anxiety, to helping patients reach an almost sleep-like state. Depending on the patient's unique needs, Westwind Integrated Health will offer one or a combination of sedation dentistry treatment to ensure the patient's comfort and safety. In some cases, treatment like IV sedation can allow patients to receive multiple dental treatments in one visit, limiting unnecessary appointments.
"I hadn't been to see a dentist in 20 years. I was scared to death of the dentist," shares a patient of Westwind Integrated Health. After meeting Dr. Maryam Beyramian, she was able to ease her dental fears and become a regular patient of Westwind Integrated Health. She expands, "The philosophy and the mission here is to satisfy their customers, to make them comfortable, and to explain everything in depth so they have a full understanding."
With patients' needs at the forefront of everything they do, Westwind Integrated Health has adopted advanced safety measures amid the coronavirus pandemic. This team is adhering to guidelines set by the Centers for Disease Control and Prevention (CDC), the World Health Organization (WHO), as well as local, state, and federal authorities. Personal protection equipment (PPE) is worn by doctors and their staff throughout a patient's visit and all surfaces are thoroughly disinfected before and after a patient receives care. In fact, telemedicine and teledentistry services are also available and can help determine if an in-person visit is warranted.
Those interested in receiving calming IV sedation from Westwind Integrated Health can visit http://www.westwindintegratedhealth.com to learn more and schedule an appointment at one of their nine conveniently located practices in Phoenix, AZ.
About the Practice
Westwind Integrated Health offers dental and medical care from nine locations in the Glendale and Phoenix, AZ areas. As the only private practice in Arizona and one of only a few practices in the country to combine dental and medical care, this team is innovating health care by offering truly comprehensive care with a whole-body approach. Comprised of a multi-disciplinary team of medical doctors and dental clinicians, Westwind Integrated Health offers specialized general dentistry, orthodontics, endodontics, periodontics, oral and maxillofacial surgery. Plus, under the same roof, patients can receive physicals and wellness exams, vision and hearing screenings, vaccinations, nutritional counseling, and minor injury treatment. The family of practices focuses on building genuine patient relationships, comprehensive and state-of-the-art treatment, and improving the long-term health and wellbeing of their patients. To learn more about the multi-specialty team, visit http://www.westwindintegratedhealth.com or call 602-457-8024 to schedule an integrated health consultation.