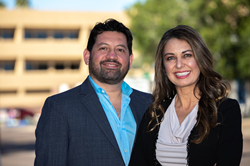 The practice always upholds strict sanitation guidelines and is putting in extra precautions to prevent the spread of COVID-19.
Phoenix, AZ (PRWEB) October 09, 2020
Since the peak of the novel coronavirus crisis, Westwind Integrated Health has treated over 1000 emergency patients. To ensure Phoenix, AZ residents receive the dental care they need during these trying times, they are offering $1 Emergency Dental Appointments. The practice always upholds strict sanitation guidelines and is putting in extra precautions to prevent the spread of COVID-19. In an effort to help their community stay healthy, they also encourage patients to use their tele-medicine and tele-dentistry services.
In a recent letter to their patients, Westwind Integrated Health states, "We want to assure you that we are committed to the prevention of the transmission of COVID-19. As a medical and dental facility, we have always adhered to the highest level of OSHA required Universal Safety Precautions, Disinfection, and Sterilization for our patients in our offices. We are well-prepared to meet the needs of our patients and communities and our facilities are safe."
Their $1 Emergency Dental Appointments are usually seen within the same day and include an exam and x-ray. Patients can also choose to receive medical health screenings and primary care on the same day. A team of dental professionals as well as medical clinicians, Westwind Integrated Health offers a comprehensive and integrative take on health care. Seeing oral health as a door to patients' overall health, improving one will, in turn, improve the other. That is why Westwind Integrated Health is the only private practice in Arizona that features both dental care and primary medical care within the same office.
This multi-disciplinary team encourages patients to seek treatment for dental concerns as soon as possible. By keeping a healthy mouth, patients are able to maintain a healthy immune system and are better able to fight off infections. Common treatments for emergency dentistry cases can include tooth extractions, gum disease treatment, relief from toothaches or mouth pain, and dental implant treatment. Dental emergencies can include:

Trauma or injury to the mouth
Pain or other signs of infection around the teeth and gums
Toothaches or knocked-out teeth
Mouth pain
Patients with other minor medical emergencies are also welcome to visit one of Westwind Integrated Health's locations in the Phoenix area. They encourage those who feel lethargic, have a fever, or feel congested to seek medical care immediately. They are currently welcoming patients in their offices as well as through a tele-medicine virtual care portal.
Patients worried that they may have compromised health and could be at risk of contracting the virus can receive both a health and dental screening. Precautions are always taken to keep their patients healthy, including following sanitation and OSHA protocols at all times and allowing patients to wait in their cars before appointments rather than the waiting room.
Those seeking a medical screening or an emergency dentist in the Phoenix, AZ area are encouraged to contact the practice by visiting http://www.westwindintegratedhealth.com or calling 602-457-8024 to set up a consultation.
About the Practice
Westwind Integrated Health offers dental and medical care from nine locations in the greater Phoenix, AZ area. As the only private practice in Arizona and one of only a few practices in the country to combine dental and medical care, this team is innovating health care by offering truly comprehensive care with a whole-body approach. Comprised of a multi-disciplinary team of medical doctors and dental clinicians, Westwind Integrated Health offers specialized general dentistry, orthodontics, endodontics, periodontics, oral and maxillofacial surgery. Plus, under the same roof, patients can receive physicals and wellness exams, vision and hearing screenings, vaccinations, nutritional counseling, and minor injury treatment. The family of practices focuses on building genuine patient relationships, comprehensive and state-of-the-art treatment, and improving the long-term health and wellbeing of their patients. To learn more about the multi-specialty team, visit http://www.westwindintegratedhealth.com or call 602-457-8024 to schedule an integrated health consultation.