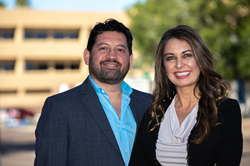 What full arch dental implants give the patient is as close as you can get to real teeth – they are not removable, they stay in place, and they preserve the bone.
PHOENIX (PRWEB) October 10, 2019
Westwind Integrated Health is now accepting patients with multiple failing or missing teeth in Phoenix, AZ to receive the long-term benefits of full arch dental implants at one of their four practice locations, with the goal to improve overall patient health. Full arch dental implants utilize as few as four implants to support a natural-looking and fully functional prosthesis as a long-term tooth replacement solution. By replacing damaged or missing teeth, patients can improve their diet and oral health, which will enhance whole-body wellness.
Dental implants are considered a more natural solution to tooth loss, allowing patients to use their new teeth like normal, without the worry of a weak bite, chipping, or loose dentures. "The advantage of involving implants underneath restorations is that it gives the patient a lot more retention, so that it feels a lot more like real teeth," says Dr. Nabil Fehmi of Westwind Integrated Health. "What full arch dental implants give the patient is as close as you can get to real teeth – they are not removable, they stay in place, and they preserve the bone."
The doctors at Westwind Integrated Health have found that many patients who suffer from chronic diseases such as cancer or diabetes, also have significant oral health problems. With dental implants, patients can improve oral health and function, which can ultimately improve overall health. Other benefits of full arch dental implants include:

- A permanent anchor into the jawbone
- An improved diet with virtually 99 percent bite strength
- The look, feel, and function of natural teeth
- No slipping or falling out
- No need for removing the prosthesis
- A stimulated jawbone for long-term health benefits
Full arch dental implants often use four to six implants, which are surgically placed into the jawbone. These implants are biocompatible titanium posts that fuse with the bone and provide the same stimulation that a natural tooth root does. A natural-looking and functioning bridge of teeth is then attached to the dental implants. Once secured, the teeth do not need to be removed. For many patients, the full arch dental implant solution can restore their smile and quality of life for the rest of their life, so they no longer have to worry about fixing their teeth year after year.
Those interested in replacing missing teeth with full arch dental implants in Phoenix, AZ can contact Westwind Integrated Health to schedule a consultation. Appointments can be made by calling the Phoenix office at 602-666-9890, the Downtown location at 602-786-8924, the Union Hills location at 602-362-4913, or the Thunderbird location at 602-786-7379. For more information or to schedule a whole-body wellness consultation, visit http://www.westwindintegratedhealth.com.
About the Practice
Westwind Integrated Health offers dental and medical care from four locations in the Glendale and Phoenix, AZ areas. As the only private practice in Arizona and one of only a few practices in the country to combine dental and medical care, this team is innovating health care by offering truly comprehensive care with a whole-body approach. Comprised of a multi-disciplinary team of medical doctors and dental clinicians, Westwind Integrated Health offers specialized general dentistry, orthodontics, endodontics, periodontics, oral and maxillofacial surgery. Plus, under the same roof, patients can receive physicals and wellness exams, vison and hearing screenings, vaccinations, nutritional counseling, and minor injury treatment. The family of practices focuses on building genuine patient relationships, comprehensive and state-of-the-art treatment, and improving the long-term health and wellbeing of their patients. To learn more about the multi-specialty team, visit http://www.westwindintegratedhealth.com or call 602-666-9890 for the Phoenix office, 602-786-8924 for the Downtown location, 602-362-4913 for the Union Hills office or 602-786-7379 for the Thunderbird location to schedule an integrated health consultation.