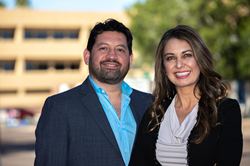 Patients seeking pediatric care can be seen by both a medical doctor and a dentist at the same location and frequently within the same day.
PHOENIX (PRWEB) May 08, 2020
Westwind Integrated Health is spreading awareness of juvenile arthritis and how it affects nearly 300,000 children in the United States. Children who suffer from juvenile idiopathic arthritis (JIA) can experience temporomandibular joint (TMJ) pain affecting their jaw, along with overall swelling or stiffness of the joints. Westwind Integrated Health specializes in both dental and medical treatment, so children suffering from juvenile arthritis in Phoenix, AZ can receive comprehensive pediatric care from this versatile practice.
Juvenile arthritis is an inflammatory condition or pediatric rheumatic disease that can develop in children under the age of 16, regardless of ethnic background or age. Juvenile arthritis is treatable, and children affected can live normal lives. Common causes and symptoms of juvenile arthritis include:

Genetic predisposition to arthritis
Joint pain, swelling, redness or warmth
Swollen or sore eyes, skin, muscles or gastrointestinal tract
Children with juvenile arthritis are more at risk of inflamed gum tissue and of being diagnosed with gum disease. It has also been found that these children can suffer from pain in the temporomandibular joint or muscle. Those with TMJ disorder may experience stiffness in the jaw, which impedes normal oral function. Additional dental concerns include jaws growing at different speeds or difficulty in brushing and flossing teeth.
Westwind Integrated Health offers full-service medical and dental care at their unique practice. Patients seeking pediatric care can be seen by both a medical doctor and a dentist at the same location and frequently within the same day. This multi-specialty approach allows doctors and patients to look at the whole body, not just one specific area at a time. Since the mouth and body are so interconnected, this integration allows the doctors of Westwind Integrated Health to give patients a comprehensive full-body approach to healthcare.
"Unless we have a healthy body, we can never have a healthy mouth. We start with the mouth, then go to the body, then back to the mouth and back to the body in order to make sure everything is healthy at the same level," says Dr. Maryam Beyramian.
With timely and effective TMJ treatment and treatments for overall juvenile arthritis, children can see vast improvements in their day-to-day lives. The doctors at Westwind Integrated Health advise parents to not let their children neglect their oral health and to schedule dental exams every six months.
Those interested in learning more about juvenile arthritis or who would like to receive integrated pediatric care in Phoenix, AZ are encouraged to schedule an appointment at Westwind Integrated Health. Appointments can be made by calling 602-457-8024. More information can also be found online at http://www.westwindintegratedhealth.com.
About the Practice
Westwind Integrated Health offers dental and medical care from nine locations in the Glendale and Phoenix, AZ areas. As the only private practice in Arizona and one of only a few practices in the country to combine dental and medical care, this team is innovating health care by offering truly comprehensive care with a whole-body approach. Comprised of a multi-disciplinary team of medical doctors and dental clinicians, Westwind Integrated Health offers specialized general dentistry, orthodontics, endodontics, periodontics, oral and maxillofacial surgery. Plus, under the same roof, patients can receive physicals and wellness exams, vision and hearing screenings, vaccinations, nutritional counseling, and minor injury treatment. The family of practices focuses on building genuine patient relationships, comprehensive and state-of-the-art treatment, and improving the long-term health and wellbeing of their patients. To learn more about the multi-specialty team, visit http://www.westwindintegratedhealth.com or call 602-457-8024 to schedule an integrated health consultation.