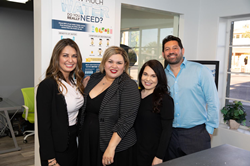 This team has treated over 1,000 emergency patients during the peak of the COVID-19 crisis. Many working 12-hour days, six days a week, Westwind Integrated Health's team are humble heroes helping the Phoenix community.
Phoenix, AZ (PRWEB) May 28, 2020
Westwind Integrated Health, a renowned practice offering medical and dental care from one multi-specialty team, is now fully reopened and welcoming patients for everything from emergency treatments to routine care. In an effort to boost the immune system of their community, they are encouraging current and existing patients to receive the care they need from a team they can trust. All nine Westwind Integrated Health locations across the Phoenix, AZ area are open for patients' convenience. In addition to in-person care, they have also made telemedicine and teledentistry a possibility so patients can speak with a professional without leaving the house. Taking new measures to ensure the safety of their patients and their staff during the COVID-19 pandemic, Westwind Integrated Health continues to be a trusted source for comprehensive healthcare in the greater Phoenix area.
Oral health is the cornerstone of overall systemic health. As a result, Westwind Integrated Health takes a unique approach to care. Instead of treating a symptom, they find its root cause and resolve it. Untreated dental concerns including gum infection and inflammation have been shown to spread throughout the body leading to harmful systemic conditions like cardiovascular disease and a weakened immune system. For this reason Westwind Integrated Health, determined to improve both dentistry and healthcare, took a revolutionary approach by integrating the two together.
Each of the nine locations across the Phoenix area has both a dental specialist and a medical clinician on staff. When coming in for a dental concern or routine cleaning, patients are also screened for medical conditions. Only visiting one office for comprehensive care is a benefit now, more than ever. Patients are able to group their appointments with their dentist and their general physician on the same day to maintain a healthy mouth and a healthy life.
Westwind Integrated Health has been in the forefront of dental care by doing its share to help keep patients out of emergency rooms. This team has treated over 1,000 emergency patients during the peak of the COVID-19 crisis. Many working 12-hour days, six days a week, Westwind Integrated Health's team are humble heroes helping the Phoenix community.
During the COVID-19 pandemic, Westwind Integrated Health is also taking additional measures to not only limit the number of visits to their office, but improve patients' safety while they are there. Always adhering to the highest level of OSHA required Universal Safety Precautions, disinfection, and sterilization for their patients, they have also implemented additional strict sanitation guidelines and personal protection equipment (PPE).
Telemedicine and teledentistry services are also available through Westwind Integrated Health. Patients can connect with qualified dental professionals or primary care physicians (PCP) from their team without ever stepping foot inside the facility. In some cases, this service provides assistance in determining if an in-person appointment is required. Consultations are also available to those interested in learning more about a non-essential or elective treatment like dental implants or their cosmetic services.
Patients with dental emergencies are also encouraged to visit Westwind Integrated Health. Treating what seems like pain localized to just the mouth can result in improvements to a patient's overall health and even provide the boost to his or her immune system needed to fight off infection.
Those interested in learning more about the safety measures being taken by the Westwind Integrated Health or who would like to learn more about their integrated approach to dental and medical care can visit their website at http://www.westwindintegratedhealth.com. To schedule an in-office visit or to take advantage of their telemedicine and teledentistry services call 602-457-8024.
About the Practice
Westwind Integrated Health offers dental and medical care from nine locations in the Glendale and Phoenix, AZ areas. As the only private practice in Arizona and one of only a few practices in the country to combine dental and medical care, this team is innovating health care by offering truly comprehensive care with a whole-body approach. Comprised of a multi-disciplinary team of medical doctors and dental clinicians, Westwind Integrated Health offers specialized general dentistry, orthodontics, endodontics, periodontics, oral and maxillofacial surgery. Plus, under the same roof, patients can receive physicals and wellness exams, vision and hearing screenings, vaccinations, nutritional counseling, and minor injury treatment. The family of practices focuses on building genuine patient relationships, comprehensive and state-of-the-art treatment, and improving the long-term health and wellbeing of their patients. To learn more about the multi-specialty team, visit http://www.westwindintegratedhealth.com or call 602-457-8024 to schedule an integrated health consultation.