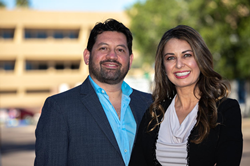 The fifth leading cause of death in United States, nearly 800,000 people experience a stroke yearly.
Phoenix, AZ (PRWEB) November 26, 2019
Westwind Integrated Health spreads stroke awareness throughout Glendale and Phoenix, AZ, including the signs of stroke as well as risk factors to avoid. Westwind Integrated Health is one of the first practices to offer comprehensive, integrated medical and dental care in Arizona as well as the country. This effort to prevent stroke by spreading awareness stems from the practice's passion for educating their patients, and the healthcare field, on how oral health is intertwined with overall health.
The fifth leading cause of death in United States, nearly 800,000 people experience a stroke yearly. However, 80 percent of strokes can be prevented. Some of the leading causes of stroke include high blood pressure, high cholesterol, smoking, obesity, and diabetes. Approximately one in three U.S. adults has at least one of these conditions or habits.
While there are uncontrollable risk factors such as age, gender, race, and family history, many stroke risk factors can be controlled. The effect that each risk factor has on stroke varies, but if eliminated, a patient's risk of stroke would drastically decrease. For example, if someone were to stop smoking, their risk of stroke would drop 12.4 percent. Below is a list of stroke risk factors and the percentages that the risk of stroke would reduce if each factor were eliminated:

Hypertension - 47.9 percent
Physical inactivity - 35.8 percent
Lipids (blood fats) - 26.8 percent
Poor diet - 23.2 percent
Obesity - 18.6 percent
Smoking - 12.4 percent
Heart disease - 9.1 percent
Alcohol intake - 5.8 percent
Stress - 5.8 percent
Diabetes - 3.9 percent
The doctors at Westwind Integrated Health strive to help patients understand the signs of stroke as well as what they can do about it. To help people retain each signal of an oncoming stroke, these Phoenix, AZ doctors recommend remembering the acronym "BE-FAST." BEFAST is a mnemonic device to help patients remember the signs of stroke, which include balance loss, eyesight loss, facial drooping, arm weakness, speech difficulty, and time to call 9-1-1.
Motivated to heal the body as a whole, Westwind Integrated Health delivers medically necessary dental care. Their care model is centered around keeping a patient's mouth healthy, free of gum disease, tooth decay, or any other oral disease, in order to keep the entire body at a healthier state. "Patients with chronic diseases such as gastrointestinal problems, diabetes, cancer, high blood pressure, and heart diseases suffer from gum disease and tooth cavities in large part due to their medical problems, not because they don't take care of their teeth," says Dr. Maryam Beyramian, a respected dentist and co-founder of Westwind Integrated Health. "At Westwind Integrated Health, we understand the continuous frustrations from our patients with medical problems and design dental therapies that work and help keep your mouth healthier long term!"
Those interested in learning more about how to prevent stroke, lower high blood pressure, and increase whole body wellness in Phoenix, AZ and surrounding areas are encouraged to connect with the respected doctors at Westwind Integrated Health. To schedule a consultation, visit http://www.westwindintegratedhealth.com.
About the Practice
Westwind Integrated Health offers dental and medical care from four locations in the Glendale and Phoenix, AZ areas. As the only private practice in Arizona and one of only a few practices in the country to combine dental and medical care, this team is innovating health care by offering truly comprehensive care with a whole-body approach. Comprised of a multi-disciplinary team of medical doctors and dental clinicians, Westwind Integrated Health offers specialized general dentistry, orthodontics, endodontics, periodontics, oral and maxillofacial surgery. Plus, under the same roof, patients can receive physicals and wellness exams, vison and hearing screenings, vaccinations, nutritional counseling, and minor injury treatment. The family of practices focuses on building genuine patient relationships, comprehensive and state-of-the-art treatment, and improving the long-term health and wellbeing of their patients. To learn more about the multi-specialty team, visit http://www.westwindintegratedhealth.com or call 602-666-9890 for the Phoenix office, 602-786-8924 for the Downtown location, 602-362-4913 for the Union Hills office or 602-786-7379 for the Thunderbird location to schedule an integrated health consultation.