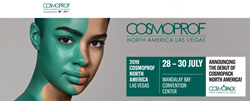 "Our beauty product clientele feel good that their products are sustainably manufactured, a fact they often share with retailers, salons, and end users." – Paul Schirmer, President, Westwood Labs
LAS VEGAS (PRWEB) July 22, 2019
Westwood Laboratories, "Earth Friendly" beauty product manufacturer, exhibits at COSMOPROF July 2019 with an award-winning sustainability edge for cosmetic brands
Environmentally sustainable product manufacturing offers a key competitive edge for beauty brands. Solar-powered Southern California-based Westwood Labs (http://www.westwoodlabs.com), a leading FDA-licensed contract manufacturer of hair/skin beauty and cosmetic products for sun care (SPF), acne care, and CBD, exhibitng at COSMOPROF, offers such an edge.
COSMOPROF North America, (http://www.cosmoprofnorthamerica.com), coming to Las Vegas Nevada, July 28-30, 2019, is the leading BTB beauty product tradeshow in the USA. This year COSMOPROF will debut "CosmoPack", featuring contract & private label manufacturers like Westwood Labs (booth 40300), along with machinery and packaging, ingredients & raw materials.
Westwood Laboratories Inc. (founded in 1948) is an FDA-licensed leader in consumer and professional product development and contract manufacturing in the categories of health and beauty, OTC, pharmaceutical, therapeutic drug medical device, household and personal care topical products. Due to popular demand, Westwood has received numerous inquiries about formulating and producing CBD-infused topical products, and has been making appointments at COSMOPROF to explore these opportunities.
Westwood is the first 100% solar-powered manufacturing facility in Azusa, California – recognized as a socially conscious corporate citizen by local and federal authorities, in addition to being certified as a producer of organic products by the State of California.
Housing 100,000 square feet of manufacturing, laboratory, warehousing and administrative space, Westwood is devoted to providing the most advanced cosmetic and drug formulations, while providing the highest-level research and development, laboratory capabilities, and customer service. Recognized by the U.S. Green Building Council for their commitment to energy independence and recycling in both renovation and new construction, Westwood Labs was awarded "Best Green Company to Work for" and "Best Overall Company to Work for" by the Los Angeles News Group Workplaces Poll (2014).
Company president, Paul Schirmer commented, "We are so pleased that our legacy of environmental sustainability is a story that continues to attract discerning brands who can appreciate the intangibles we provide, above and beyond high levels of quality and service. Our partners feel good that their products are manufactured with solar power, and that's a fact they often share with retailers, salons and end users."
Westwood Labs looks forward to reacquainting with current customers and exploring new working relationships at COSMOPROF. To meet with Westwood Labs (booth 40300), please contact Paul Schirmer pschirmer(at)westwoodlabs(dot)com or Melinda Chavez mchavez(at)westwoodlabs(dot)com or contact the company through the COSMOPROF attendee portal. For more information please visit http://www.westwoodlabs.com.
About Westwood Labs
Westwood Laboratories Inc., (http://www.westwoodlabs.com), founded in 1948, is licensed by the FDA (U.S. Food and Drug Administration), EPA (U.S. Environmental Protection Agency) and the State of California Department of Health for the manufacture of drug, household and cosmetic products. The company is also FDA licensed as a producer of medical devices, and is certified as a producer of organic products by the State of California.