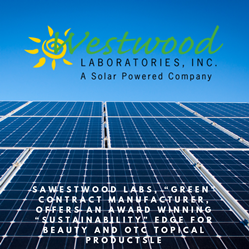 " Our client partners can feel good that their products are manufactured with solar power, and that's a story they often share with the end users of their products." – Paul Schirmer, President, Westwood Labs
PASADENA, Calif. (PRWEB) June 20, 2019
In a regulatory atmosphere where beauty and health brands can make little to no health claims, environmentally conscious manufacturing and packaging presents a marketing edge. Solar powered Westwood Labs (http://www.westwoodlabs.com), exhibiting for the first time at the leading BTB beauty product tradeshow CosmoProf North America (July 2019), is one such edge. This year CosmoProf (http://www.cosmoprofnorthamerica.com), will debut "CosmoPack", featuring contract & private label manufacturers like Westwood Labs (booth 40300), along with machinery and packaging, ingredients & raw materials.
An award-winning contract manufacturer of beauty and OTC topical products, Westwood Labs, founded in 1948 is the first 100% solar-powered manufacturing facility in Azusa, California. Recognized by the U.S. Green Building Council for its commitment to energy independence and recycling in both its renovation and new construction, Westwood Labs was awarded "Best Green Company to Work for" and "Best Overall Company to Work For" (Los Angeles News Group Workplaces Poll, June 2014).
Westwood Labs conducted a "green retrofit" of its original facility at 710 South Ayon Avenue, bringing it to "Gold Level" standards. They later broke ground on their recently completed "Platinum Level" green building at 766 South Ayon Avenue (standards as recognized by the U.S. Green Building Council).
The combined solar power plants on the Westwood Laboratories campus generate 210,000 kilowatts of energy annually, equivalent to 148 metric tons of carbon dioxide. This incredible "carbon footprint" is equal to removing annual greenhouse gas emissions from 31 passenger vehicles, or equal to 17,000 gallons of gasoline consumption!
Along with high-performing solar panel arrays, the firm's buildings include (1) a high-efficiency lighting system, controlled by a software system that automatically turns off lamps throughout the buildings when not in use, (2) a state-of-the-art Powerlink™ Energy Management System that controls the climate and monitors the entire energy system usage for optimal efficiency, (3) rewired manufacturing electric motors resulting in 30% energy savings, (4) upgraded roofs meeting "Title 24" compliance with foam insulating barriers (using reflective coating), resulting in a 15 degree drop in interior temperatures, and (5) high-efficiency air conditioning units, utilizing R-410A earth-friendly coolants; efficiently distributing optimal airflow throughout the manufacturing area.
Company president, Paul Schirmer commented, "We are so pleased that our legacy of environmental sustainability is a story that continues to attract discerning clients who can appreciate the intangibles we provide, above and beyond high levels of quality and service. For example, our client partners can feel good that their products are manufactured with solar power, and that's a story they often share with the end users of their products."
About Westwood Labs
Westwood Laboratories Inc., (http://www.westwoodlabs.com), an FDA-licensed leader in product development and custom manufacturing, is a premier contract manufacturer and private label manufacturer of consumer and professional products in the categories of health and beauty, over-the-counter (OTC), pharmaceutical, therapeutic drug, medical device, household and personal care topical products. With over 100,000 square feet of manufacturing, laboratory, warehousing, ​and administrative space, Westwood is devoted to providing the most advanced cosmetic and drug formulations, while providing the highest-level research and development, laboratory capabilities, and customer service.