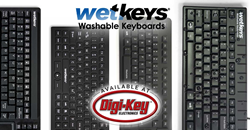 "Our products have always been designed with the industrial sector in mind, and I am glad they will be made more readily available to help improve the safety of industrial workers."
ATLANTA (PRWEB) November 30, 2021
Businesses are faced with increasing frustrations in supply chain reliability and ongoing concerns for employee health. Having safe reliable technology can save IT budgets, protect workers, and foster innovation. WetKeys promotes the importance of washable computer peripherals across various industries. Through a new partnership with Digi-Key Electronics, WetKeys emphasizes their commitment to make these crucial durable, waterproof solutions for workstations more widely available.
Digi-Key Electronics launched Marketplace in 2020. "Marketplace" provides a singular shopping experience for all things related to technology innovation — IoT, industrial automation, test, measurement and more. WetKeys Washable Keyboards is honored to have been chosen as a vital tech innovator important to the growing Marketplace.
"We are excited to be launching our products into wider distribution with Digi-Key MarketPlace," says Matt Dombrowski, Business Development Lead, "Our products have always been designed with the industrial sector in mind, and I am glad they will be made more readily available to help improve the safety of industrial workers."
WetKeys produces over 15 unique waterproof keyboards and 6 unique washable computer mice for a range of highly specialized work environments. Providing a solution for a clean workstation can stop the spread of contagious illnesses, lowering sick days. Additionally, having reliable computer peripherals that can withstand routine cleanings leads to savings over time by decreasing wasteful IT spending on ordinary keyboards.
By purchasing with Digi-Key, procurement specialists and engineers will now be able to streamline the buying process and incorporate mindful, sustainable purchasing practices. Go Washable with Digi-key Marketplace.
About WetKeys
The WetKeys® Washable Keyboard brand was created with a focus on function for industrial, food processing, and general use with easy-to-sanitize products. Later SaniType® Sanitary Typing created affordable, germ-resistant medical keyboards to help prevent cross-contamination, improving patient safety in healthcare facilities and dental offices.
Today, WetKeys offer over ten unique product brands and are home to the widest selection of sealed, washable computer keyboards and waterproof computer mice. WetKeys® Washable Keyboards is a certified Small Business Enterprise, and a Certified Diversity Supplier. For current updates, follow WetKeys on Facebook, Twitter, Youtube, Instagram, and LinkedIn.
About Digi-Key Electronics
Digi-Key Electronics, headquartered in Thief River Falls, Minn., USA, is an authorized global, full-service distributor of electronic components and provides access to unlimited adjacent products and technologies through their online Marketplace. They offer more than 11.7 million components from over 1,900 quality name-brand manufacturers. Additional information and access to the world's broadest resources for technology innovation can be found by visiting https://www.digikey.com/ and on Facebook, Twitter, YouTube, Instagram, and LinkedIn.