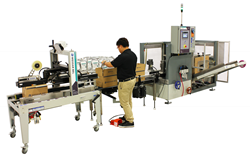 "The Flex E Pack provides a start to finish solution for the end user to form up their cases, provide the right space for the operators to hand-pack the cases, and send them down to a fully automatic top sealer"
RICHMOND, British Columbia (PRWEB) June 05, 2019
The new Flex E Pack is a one to two-person modular, end-of-line packing station, and it will be showcased as part of a joint venture between two ProMach product brands - Wexxar Bel (Booth #2008) and Matrix (Booth #2108) at Expo Pack , June 11-13 in Guadalajara, Mexico.
The Flex E Pack is a complete case packing system that forms, packs, and seals cases. Designed to reduce labor and increase production output of flexible packages, this system reduces what can commonly require three operators down to one operator. The Flex E Pack maintains the same level of output by automating case erecting and sealing operations. The modular system provides end users with added flexibility to integrate the right components to best meet application needs.
"The Flex E Pack provides a start to finish solution for the end user to form up their cases, provide the right space for the operators to hand-pack the cases, and send them down to a fully automatic top sealer," said Sander Smith, Product Manager at Wexxar Bel. "On a small footprint, you're able to achieve quite a bit."
At Expo Pack, the Flex E Pack will be introduced as part of an integrated system with Matrix's Mercury VFFS machine. As displayed, the VFFS machine will produce a pouched product that is then conveyed over to a Wexxar Bel product accumulation table, next to the Flex E Pack station. On the show floor, staff operators will load the pouches into cases formed by the Dekka 500 that are then sent to the BEL 252 for case sealing.
The Flex E Pack's flexible design is able to accommodate the requirements of most companies with options for a one or two person packing station. This pairs well with any case former from the Wexxar series, such as the Wexxar WF20. Available models range in output from 20 to 35 cases per minute and selection is dependent upon the level of output desired. Packaging lines that benefit most from this solution include those with variable product flow and the following packing conditions:

Frequent case size changes
Different case sizes and pack configurations
Limited floor space
Manual inspection of products
Limited technical staff
High price of automated case packers and erectors
High SKU volume
Because of its unique and extremely safe design, Wexxar Bel's exclusive Snap Folder flap folding technology requires no guarding which keeps the impact light but effective on all corrugated cases. The graphic user interface and color-coded adjustment instructions enable diverse, multi-language workforces to easily operate the system.
To see how the Flex E Pack can make your business more profitable, visit Wexxar Bel at Booth #2008 and Matrix Packaging Machinery at Booth #2018 at Expo Pack Guadalajara. For more information on the Flex E Pack, visit http://www.Wexxar.com.
About Wexxar Bel
At Wexxar Bel, corrugated container packaging applications are limited only by the imagination. Our Wexxar case formers and case sealers have been installed in nearly 40 countries and consistently bring customers the lowest cost of ownership and the highest standards of safety. Wexxar also offers the Bel line of corrugated box sealers, tapers, and packing systems as well as the IPAK line of tray and bliss formers, stackers, and sealers systems. As part of the ProMach End of Line business line, Wexxar helps our packaging customers protect and grow the reputation and trust of their consumers. ProMach is performance, and the proof is in every package.
About Matrix
Matrix is an industry leading manufacturer of rugged, cost competitive, and easy-to-use vertical form fill seal (VFFS) equipment for all types of flexible packaging and operates as a master distributor of INV PACK stickpack and sachet machines, Toyo Jidoki pre-made pouch packaging machines, and FL TECNICS (a ProMach brand) rollstock pouch machines. With over 30 years of flexible packaging expertise, Matrix has the ability, knowledge, and commitment to tailor highly efficient and profitable packaging systems for our customers on a global scale. Matrix is a product brand of ProMach, a global leader in packaging line solutions. As part of the ProMach Flexibles business line, Matrix helps our packaging customers protect and grow the reputation and trust of their consumers. ProMach is performance, and the proof is in every package.
About ProMach
ProMach is a family of best-in-class packaging solution brands serving manufacturers of all sizes and geographies in the food, beverage, pharmaceutical, personal care, and household and industrial goods industries. ProMach brands operate across the entire packaging spectrum: filling and capping, flexibles, pharma, product handling, labeling and coding, and end of line. ProMach also provides Performance Services, including integrated solutions, design/build, engineering services, and productivity software to optimize packaging line design and deliver maximum uptime.
ProMach designs, manufactures, integrates, and supports the most sophisticated and advanced packaging solutions in the global marketplace. Its diverse customer base, from Fortune 500 companies to smaller, privately held businesses worldwide, depends on reliable, flexible, technologically advanced equipment and integrated solutions. ProMach is headquartered near Cincinnati, Ohio, with manufacturing facilities and offices throughout the United States, Canada, Mexico, Brazil, Europe, United Arab Emirates, and China.