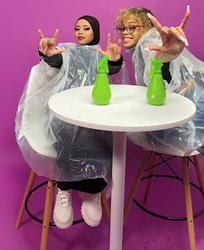 Whalar hopes to inspire and represent the future of leadership in the influencer industry. We demonstrate not only a deep fluency on social platforms, we value first-person relationships with creators, and, most importantly, we challenge ourselves daily to stand against oppression and for inclusion.
LOS ANGELES (PRWEB) February 05, 2021
Today, Whalar, a global creativity and technology-powered influencer agency, announces the launch of "The Crib Around The Corner". Named by the digital creators themselves, the project is the first house for TikTok stars in Los Angeles specifically for Black influencers - talented creators of entertaining content, with a combined following on TikTok alone of more than 21 million.
The social media house marks a new era for the double-Cannes Lions winning agency as they look to diversify their model with this proactive production. Driven by their mission statement to Liberate The Creative Voice, Whalar partnered with Thirteenth, an influencer company who recently managed "The House Nobody Asked For." Under their agreement, Thirteenth sourced the talent and will collaborate on the content strategy, brand partnerships, and production. Whalar will manage the talent, produce the content, and has secured brand partnerships, to be announced at a later date.
Each of the seven creators will be connected to exclusive brand deals and world-class mentorship from Whalar to help drive their careers forward and ensure creative longevity.
In 2020, Whalar was named a Top 20 Agency by Adweek and ranked the 8th fastest-growing privately owned tech company by The Sunday Times. Whalar is the only agency of its kind to be an officially badged partner of TikTok, and is a global marketing partner to five major social platforms: TikTok, Instagram, Twitter, Facebook, and Snapchat.
Why 'The Crib Around The Corner'?
Black creators are consistently responsible for inspiring and creating the internet's most viral content, but their cultural leadership often comes without proper credit or due compensation. Whalar's mission for this house is to curate a healthy and supportive space for some of social media's most talented creators to laugh, connect, produce and entertain. They've created authentic connections with their audience. They're fresh voices who represent the second generation of digital creators. They're deserving of this opportunity and equitable compensation.
Who Are The Creators?
Dan Muthama, Stacy Thiru, Challan Trishann, Everett Noble, Meish Bailey, Layla Qasim (Neko), Dare Ajibare
Everett - "I want the world to know that I'm not just a social media creator. My goals go beyond social media, and this house can help me prepare for that. I want to become an A-list actor. I make videos that realistically don't make sense, but the story is executed so well it creates intrigue, and you believe it actually could happen. Then I layer it with a comedic tone."
Layla - "I decided to join the Crib cast because I thought it would be a great opportunity for me to create new kinds of content with some super cool creators. It's harder for Black creators and creators of color in general to gain any kind of fan base or following compared to White creators. Most platforms push White creators into the algorithm and most creators of color have to try three times as hard just to be seen. I love everyone who supports me and I'm so thankful for each and every one of my followers."
Dan - "You never get an opportunity to live with people who share the same goals as you, better yet look just like you. It felt like intuition. We're a lowkey force to be reckoned with. Brands have always seen white creators as more marketable, but if they put people who represent others in the right rooms, it would spark a movement."
Challan - "Black people are prejudged before anybody gives us the chance to show them anything about us. A lot of Black creators are set up for failure on the spot. We have to fight to be noticed. But this is the best thing about my life right now, being able to be surrounded by a great and creative company and energy. I want the world to know me and I'm very excited to introduce myself!"
Dare - "I'm just sorry that I didn't start creating sooner. I come from an African background, so growing up I was taught that in order to succeed in life you either became a doctor, lawyer, or engineer. That was ingrained in me my whole life and I'm just now giving myself the freedom and opportunity to discover what I want to do. I joined the Crib because I felt like it was an opportunity to build my own career, and an opportunity for us as a collective to showcase young Black talent. I understand the importance of representation and I feel like the Crib is going to be that for a lot of people."
Meish - "I want to act, write and produce short films and movies with meaning, stories that move people. I want to create cinematic films. I want to share the experience and feelings we all have, but we feel like no one else understands. I want to be one of the strings that connect us all as humans & bring people together by making them realize that we are just as much alike as we are different. I'm more than an influencer, I just happen to be using the internet to get my foot in the door."
Stacy - "There's so much I don't know about the field, and I am excited to start learning. Creators curate the audiences that continue to come back to the apps, and it's important that we're recognized for that. It's easy to attribute the challenges we face as Black creators to the bias of the people who are in charge, but we'll never know the whole story. I just have learned to assume that Black people get the worst end of the bargain when it comes to most things. But I want the world to know that I am here for a good time, I enjoy every moment that I'm blessed with. I am a hard worker. I am a student. I can accomplish anything I put my mind to."
COVID-19 Precautions and Influence For Good
All Creators are in strict compliance with COVID-19 health & safety guidelines. They tested negative before flying to Los Angeles and have quarantined on arrival through the incubation period before receiving their next negative test. They are subject to regular testing and restricted from interacting with anyone who has not been confirmed to be COVID negative within 72 hours.
They will tailor content to include COVID-19 messaging to influence their audience to stay vigilant during the pandemic. They'll be shooting outside, socially distanced, and starting some videos with masks on.
As COVID-19 is affecting Black and Brown communities at a disproportionate rate, Whalar will work with the creators to communicate safety and responsibility. They are interested in leveraging their platforms to encourage the Black community to get vaccinations.
Karyn Spencer, A Creator-First CMO
Spearheading Whalar's latest adventure is digital vet and newly appointed CMO, Karyn Spencer.
As Ashton Kutcher's VP of Production in the 2000s, Spencer helped Kutcher become the first person to reach 1M followers on Twitter. In 2011, she became Director of Communications for Tyra Banks before making her way into digital entertainment as VP of brands for the first-ever influencer agency, theAudience.
Spencer connected directly with social media platform stars as the Head of Creators at Vine, and upon Vine's closure became VP of AT&T Hello Lab, a diversity-driven millennial and Gen Z-focused initiative. At Target she was Director of Talent Partnerships and Influence Marketing, where she produced a YouTube series that paired traditional celebrities like Tiffany Haddish and Angela Kinsey with digital talents like Casey Neistat and Emma Chamberlain and launched an always-on ambassador program with talent including Elaine Welteroth and Parker Kit Hill.
In 2018, she joined the board of creator-founded and Alex Ohanian-funded Clash as their advisor. Last week, Clash acquired Byte, the second social media platform launched by Vine founder Dom Hofmann.
In 2020, she partnered with AFROPUNK and Fresh Tape Media to launch BlackLight with Whalar; a pro-bono initiative to pay Black creators to share their stories and have them distributed widely, to broaden the discoverable pipeline of Black talent.
Spencer signals a new era of the CMO - an expert in both social media and the creator ecosystem.
Karyn Spencer, Whalar CMO: "Whalar hopes to inspire and represent the future of leadership in the influencer industry. We demonstrate not only a deep fluency on social platforms, we value first-person relationships with creators, and, most importantly, we challenge ourselves daily to stand against oppression and for inclusion.
The Crib Around The Corner is a crucial example that spotlighting traditionally marginalized talent is not just a moral imperative, it's a business opportunity. When you authentically engage with and equitably compensate creators of all kinds, their audiences follow.
We are encouraged that, after a year of pain and progress for the Black Lives Matter movement, there is more interest than ever before from brand partners who want to contribute to and collaborate with young, gifted talent like the Crib cast."
Ogo, Thirteenth Head of Partnerships: "Thirteenth works to empower underserved creators with high-level opportunities. Each endeavor has reinvented the meaning of that mission, leading to collaborations and campaigns that forecast the future of social media culture with the most prominent up and coming creative minds.
The Crib Around The Corner is a continuation of that vision. Not only is it a chance to highlight some of social media's best, but the opportunity to bring this to life with Whalar, a creator-first, award-winning agency, and show the industry and the audience what we've been working on is meaningful beyond measure."
About Whalar
Whalar is a global influencer and social media agency driven by a proprietary tech platform, on a stated mission to Liberate The Creative Voice for both their brand and creator clients. Headquartered in New York and London, Whalar works with 300+ brands and 100+ talent clients across seven global locations. For more information, please follow us @whalar or visit us at http://www.whalar.com
About Thirteenth
Thirteenth is an influencer marketing and management company that partners with brands and creators to build culture-defining moments on social media. In just one year since its founding, Thirteenth has innovated and executed numerous TikTok hashtag challenges that have accumulated over 25 billion views, led partnerships with famed content collective The House Nobody Asked For, and paired hundreds of creators with Fortune 500 brands.