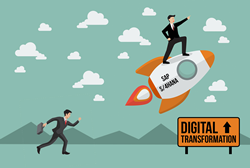 Wharfedale's Technical Analysis Service for SAP S/4HANA will help customers develop a roadmap and enable them to accelerate their digital transformation initiative
PRINCETON, N.J. (PRWEB) January 08, 2019
Wharfedale Technologies Inc. announces its Technical Analysis Service for SAP S/4HANA® to help enterprise customers successfully prepare their migration to SAP S/4HANA. Enterprise customers know a move to SAP S/4HANA is inevitable. Wharfedale's Technical Analysis Service for SAP S/4HANA is designed to help remove any uncertainty customers may face when planning a migration.
Key questions during planning efforts center around roadmap, timeline, TCO (total cost of ownership), impact of SAP S/4HANA on business functions, and the resources needed for the migration. Many customers also want clarity regarding the best approach for the migration. Is it better to do a one-step move or is the two-step approach a better option?
Wharfedale's Technical Analysis Service for SAP S/4HANA answers these questions by providing:

Full transparency on options for an SAP S/4HANA migration, such as SAP HANA database, SAP S/4HANA Finance, and SAP S/4HANA conversions
A total cost of ownership assessment
A customized Impact Stimulation Report that includes all the impact possibilities for the customer
A code optimization analysis to ensure code will run fast on the new HANA database
Preliminary SAP S/4HANA migration budgetary costs
As a certified cloud partner, Wharfedale also offers its expertise to customers looking to adopt a cloud-first strategy for SAP S/4HANA. As part of the Technical Analysis Service, Wharfedale will show its customers how the cloud impacts their SAP infrastructure for SAP S/4HANA.
"One of the challenges facing SAP HANA and SAP S/4HANA initiatives of the future is the infrastructure they demand," said Ganesh Radhakrishnan, CEO of Wharfedale Technologies Inc. "Wharfedale's Technical Analysis Service for SAP S/4HANA will help customers develop a roadmap to alleviate infrastructure challenges with the cloud."
About Wharfedale Technologies Inc. 
Wharfedale Technologies Inc. (WFT) is a leading technology consulting firm specializing in infrastructure integrations and cloud services in support of SAP solutions including upgrading to SAP HANA and migrating SAP S/4HANA to Microsoft Azure, as well as private/public hybrid cloud solutions. Wharfedale is a certified provider of SAP hosting, infrastructure and cloud services, and Microsoft Gold Partner for Cloud Platform. Wharfedale offers solutions for high availability, disaster recovery, advanced sizing for virtualization, backup/recovery integration, systems refresh automation and landscape optimization.
For more information on Wharfedale and WFT Cloud services, please visit http://www.WFTCloud.com or call us at (888) 533-3113.
SAP, SAP HANA, SAP S/4HANA and other SAP products and services mentioned herein as well as their respective logos are trademarks or registered trademarks of SAP SE (or an SAP affiliate company) in Germany and other countries. See http://www.sap.com/corporate-en/legal/copyright/index.epx for additional trademark information and notices. All other product and service names mentioned are the trademarks of their respective companies.