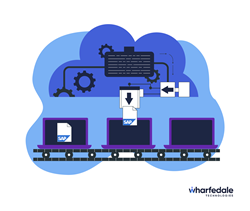 With Wharfedale's automation tools, the inefficiency of manual SAP deployments are eliminated.
PRINCETON, N.J. (PRWEB) February 13, 2020
Manual SAP deployments are time-consuming, inefficient, and prone to human error. Due to these factors, relying on manual SAP deployments puts organizations at a greater risk of experiencing delivery issues and poor execution quality. Wharfedale Technologies Inc., a leading cloud service provider, announced today the availability of its DevOps Automation tools for SAP on Azure. These tools automate SAP deployments on Azure, making them many times faster, more cost-effective, and less prone to human error.
Wharfedale's automation tools incorporate best practice from SAP and Azure to produce consistent and cost-effective SAP deployments on Azure. The tools work in tandem to enable workflow automation and node configuration.
Wharfedale's DevOps Automation Tools offer customers the following benefits:

Reduced time to market: SAP landscapes can be deployed in a matter of hours instead of days utilizing the automated workflows provided by Wharfedale's SAP automation solution.
Reduced Deployment costs: Organizations pay for virtual compute resources based on the time it is held. Automation minimizes the time non-productive resources are held as a work-in-progress there by reducing the resource costs of deployment.
Increased service reliability: A completely automated execution is far more reliable than manual execution. Automation produces significantly less errors and higher execution quality.
Impeccable compliance and improved auditability: Wharfedale's SAP automated solution for SAP deployments utilizes a template-based approach which allows organizations to meet strict compliance requirements. The template-based approach also simplifies auditing.
Reduced run costs: SAP Basis and infrastructure operations done manually require human labor and its associated costs. Wharfedale's automation tool reduces costs by minimizing human labor.
Our SAP Automation tools make SAP deployments on Azure many times faster and more cost-effective," said Mahesh Reddy, Chief Technology Officer at Wharfedale Technologies. "The truly groundbreaking thing about these automation tools is how we can now manage SAP deployments on Azure. With these tools, we can treat SAP deployments and SAP architecture as software code that we can version, test, replicate, and maintain through software development life cycles. Everything is predictable. We know that our architectures and automations will produce the same infrastructure every time we run it".
Offered as a part of Wharfedale's Managed Services, automation tools enable customers to improve the efficiency of their SAP implementations and operations with these automated solutions:
SAP Deployment Automation
Wharfedale utilizes various automation tools to deploy an SAP environment. Once the SAP instances are deployed, the automation tools can be used to automate start/stop activities for non-production SAP environments. This helps customers save infrastructures costs by making specific systems like sandbox, training, or development available only when needed.
SAP Basis Automation
With Wharfedale's automation tools SAP administration activities are simplified by automating various tasks such as SAP systems backup, systems refresh, systems copy, and OS patching.
Monitoring Solution for SAP Landscape
Utilizing its extensive experience managing SAP environments in Azure, Wharfedale has developed a monitoring solution that automates problem detection, diagnosis, and resolution for the most common performance issues customers face in their SAP environment. This automation significantly increases Wharfedale's response time and allows its support team to dedicate more resources to each customer's most critical issues.
About Wharfedale Technologies Inc. 
Wharfedale Technologies Inc. (WFT) is a leading technology consulting firm specializing in infrastructure integrations and cloud services in support of SAP solutions including upgrading to SAP HANA and migrating SAP S/4HANA to Microsoft Azure, as well as private/public hybrid cloud solutions. Wharfedale is a certified provider of SAP hosting, infrastructure and cloud services, and Microsoft Gold Partner for Cloud Platform. Wharfedale offers solutions for high availability, disaster recovery, advanced sizing for virtualization, backup/recovery integration, systems refresh automation and landscape optimization.
For more information on Wharfedale and WFT Cloud services, please visit http://www.WFTCloud.com or call us at (888) 533-3113.
SAP and other SAP products and services mentioned herein as well as their respective logos are trademarks or registered trademarks of SAP SE (or an SAP affiliate company) in Germany and other countries. See http://www.sap.com/corporate-en/legal/copyright/index.epx for additional trademark information and notices. All other product and service names mentioned are the trademarks of their respective companies.