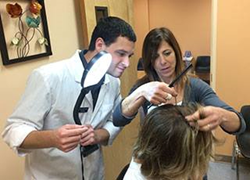 If you need or want help defeating a lice infestation, professional head lice removal can be the best option.
MONROE, Conn. (PRWEB) February 12, 2019
Liz Solovay, president of Lice Treatment Center® (LTC) recently published the following valuable information for every parent whose kids have ever been victims of head lice or who want to make sure their families never get head lice,
Head Lice: Prevention and Treatment
If Your Kids Are Diagnosed with Head Lice-- Get Treatment Quickly!
A head lice infestation can throw any household into turmoil. If you need or want help defeating a lice infestation, professional head lice removal can be the best option. For example, Lice Treatment Center® can send LTC-trained lice removal technicians right to your home to provide safe, non-toxic lice treatment 24/7. Effective lice treatment is very time-consuming and labor-intensive. It requires effective treatment products and meticulous, manual "nit picking" to ensure all live bugs and nits (eggs) are removed from the scalp and each hair shaft. An infestation will not be defeated if every nit is not removed.
Once a lice infestation is successfully treated, the best way to avoid future lice infestations is to understand how lice are spread. The following tips and instructions will help prevent a reoccurrence of head lice in the future:
5 Crucial Tips for Preventing Head Lice
1. Conduct regular "head checks" on family members, especially school-aged children. Vigilance is a crucial line of defense in preventing head lice.
2. The most common way to contract head lice is simply by head-to-head contact. Head lice cannot fly or jump but can crawl at a rate of 6 to 30 centimeters per minute so avoid "head-to-head" contact during sports, playtime, and sleepovers.
3. Don't borrow or share personal items that contact the head, including combs & brushes, hats, scarves, sports and bike helmets, hair ties, scrunchies, etc.
4. Although lice can't fly, they can crawl so, at slumber parties or sleep-overs, avoid using another person's sleeping bags or blankets.
Don't let toddlers share dress-up clothing or stuffed animals. Don't let children share cubbies in school if possible. Avoid "selfies" involving head-to-head contact.
5. Use Only Safe, Non-toxic Lice Prevention Products such as those sold by Lice Treatment Center®.
The active ingredients in LTC™ products are all natural and non-toxic and can keep your family free of head lice at school, camp, and even sleepovers.
LTC® Lice Prevention Products include Daily Shampoo, Daily Conditioner, Daily Repellent Spray and Fabric & Upholstery Spray, Lice Insurance™ Prevention Kit.
These tips are intended to help you make sure your family remains free of head lice without resorting harsh chemicals or pesticides anywhere lice like to hang out. For more information about lice treatment and prevention visit http://www.licetreatmentcenter.com.